*Insert Heart Eyes Emoji*
50 Love Song Captions To Express Your Affection When You Post Those Cute, Lovey Pics
Get ready to swoon over these sweet lyrics.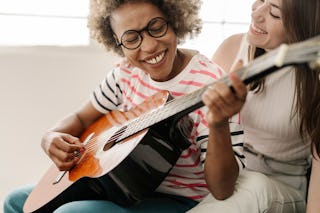 Coroimage/Getty Images
Ah, love! What's sweeter than that? When you're in love, you want to shout it from the rooftops or, erm, post it on Instagram. And for those occasions you want to show off your partner, your kiddos, or maybe even your beloved pup, you need a swoon-inciting caption that'll match what's in your heart. Thankfully, musicians always seem to eloquently express what we feel. So, before you hit "post," it makes sense to look to love song captions to capture what you're experiencing in that moment. (After all, let's be real: Give it five minutes, and your partner or kids could be driving you mad again.)
It's nice to look back at a photo — a memory, really — and remember just how happy you were while it was happening. Or how head over heels you were when looking at your loved one. Since few things can transport you back to a certain time or feeling like music can, choosing love song lyrics is a great way to create a caption that'll get you (and anyone who reads it) right in the feels.
Choose lyrics from some of the greatest love songs of all time — from "Endless Love" by Diana Ross and Lionel Richie to "Can't Help Falling in Love" by Elvis Presley. Or if you're more of a "today's top hits" fan, you'll resonate with newer songs, like "Golden Hour" by Kacey Musgraves and "Paper Rings" by Taylor Swift.
Get ready to upload with these heartwarming love song captions that evoke all the sweetness.
Classic Love Song Captions
"Two hearts that beat as one, our lives have just begun." — "Endless Love," Diana Ross and Lionel Richie
"I'm everything I am because you loved me." — "Because You Loved Me," Celine Dion
"Love gets me every time." — "Love Gets Me Every Time," Shania Twain
"Take my hand, take my whole life, too, for I can't help falling in love with you." — "Can't Help Falling in Love," Elvis Presley
"I love you always, forever, near and far, closer together, everywhere I will be with you." — "I Love You Always Forever," Donna Lewis
"All you need is love." — "All You Need is Love," The Beatles
"You are the sunshine of my life." — "You Are The Sunshine of My Life," Stevie Wonder
"I couldn't love you any better, I love you just the way you are." — "Just The Way You Are," Billy Joel
"When the moon hits your eye like a big pizza pie, that's amore." — "That's Amore," Dean Martin
"And I need your love, babe, well, that's all I'm living for." — "I Wanna Be Your Lover," Prince
"There's nothing that I wouldn't do to make you feel my love." — "Make You Feel My Love," Bob Dylan
"And here we are in heaven, for you are mine." — "At Last," Etta James
"Love was made for me and you." — "L-O-V-E," Nat King Cole
"How wonderful life is while you're in the world." — "Your Song," Elton John
"How sweet it is to be loved by you." — "How Sweet It Is (To Be Loved By You)," James Taylor
"God only knows what I'd be without you." — "God Only Knows," The Beach Boys
"I'll be the greatest fan of your life." — "I'll Be," Edwin McCain
"Try as they may, they can never define what's being said between your heart and mine." — "When You Say Nothing At All," Alison Krauss & Union Station
"Still like two kids with stars in our eyes." — "Check Yes or No," George Strait
"'Cause you make me feel so brand new, and I want to spend my life with you." — "Let's Stay Together," Al Green
"For a chance to be with you, I'd gladly risk it all." — "Through the Fire," Chaka Khan
"Like a river flows, surely to the sea, darling, so it goes, some things are meant to be." — "Can't Help Fallin in Love," Elvis Presley
"And the wonder of it all is that you just don't realize how much I love you." — "Wonderful Tonight," Eric Clapton
"In your heart, I see the start of every night and every day; in your eyes, I get lost, I get washed away." — "The Best," Tina Turner
"The night we met I knew I needed you so, and if I had the chance, I'd never let you go." — "Be My Baby," The Ronettes
Modern Love Song Captions
"I can feel the sun whenever you're near." — "Love On Top," Beyonce
"You're giving me the feels." — "The Feels," Maren Morris
"I like shiny things, but I'd marry you with paper rings." — "Paper Rings," Taylor Swift
"I don't need anything fancy, I just need you and me slow dancing." — "Slow Dancing," Ally and AJ
"You're gonna live forever in me, I guarantee, just wait and see." — "You're Gonna Live Forever in Me," John Mayer
"It all works out in the end, wherever you go, that's where I am." — "That's Where I Am," Maggie Rogers
"I fall in love with you every single day." — "Thinking Out Loud," Ed Sheeran
"All of me loves all of you." — "All of Me," John Legend
"You steal the air out of my lungs, you make me feel it." — "Don't Take The Money," Bleachers
"I wanted my heart to remain in my pocket, she took it out and wrote her name right on it, and now I'm only borrowing." — "Mona Lisa, Mona Lisa," FINNEAS
"I get so lost inside your eyes." — Adore You, Harry Styles
"I'll follow you into the park, through the jungle, through the dark; girl, I never loved one like you." — "Home," Edward Sharpe and the Magnetic Zeros
"There's not a thing that I would change, 'cause you're amazing just the way you are." — Just the Way You Are, Bruno Mars
"Darling, don't be afraid; I have loved you for a thousand years, I'll love you for a thousand more." — "A Thousand Years," Christina Perri
"Honey, I'd walk through fire for you, just let me adore you." — "Adore You," Harry Styles
"Tell me you love me, I love you a million percent." — "My Little Love," Adele
"If the sky falls from heaven above, oh, I know I had the best time falling into love." — "Till Forever Falls Apart," Ashe and FINNEAS
"You take me the way I am." — "The Way I Am," Ingrid Michaelson
"There's only 1 thing 2 do, 3 words 4 you (I love you)." — "1, 2, 3, 4," Plain White Ts
"You're my golden hour, the color of my sky, you set my world on fire." — "Golden Hour," Kasey Musgraves
"Forever, never sounded good until I met ya." — "Forever," Chelsea Cutler
"So I'll love ya 'til my lungs give outI ain't lyingI'm all your'n, and you're all mine." — "All Your'n," Tyler Childers
"Oh, and babe, I'm fist-fighting with fire, just to get close to you." — "Love on the Brain," Rihanna
"Every inch of your skin is a holy grail I've got to find; only you can set my heart on fire." — "Love Me Like you Do," Ellie Goulding
"Can I go where you go? Can we always be this close forever and ever?" — "Lover," Taylor Swift