6 Beach-Proof Makeup Products That Won't Melt Off Your Face 
These makeup products are ready for anything.
by Morgan Flaherty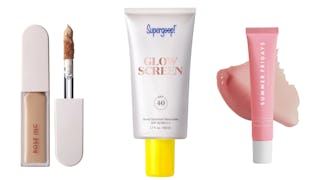 Sephora; Amazon; Sephora
We may receive a portion of sales if you purchase a product through a link in this article.
When it comes to wearing makeup at the beach, people tend to fall into two camps: those who think it's a pointless exercise (why bother applying something you'll sweat off or wash away in the ocean?), and those who would argue it's a necessity. I happen to fall closer to that latter category. While I have no issue going bare-faced out into the world, I simply enjoy wearing makeup.
But wearing makeup at the beach is different from you're typical day. Dealing with hot temperatures, UV rays, and salt air means a typical full-face routine may end in disaster. However, makeup at the beach can work with a more minimalist approach and the right products. I'm sharing my favorite makeup items that, in my experience, outlast even the most brutally hot day at the beach or by the pool without melting off your face.
A Sunscreen That Doubles As A Primer
When you're spending a day at the beach, sunscreen is essential. Instead of wearing a heavy foundation, opt for the radiant Supergoop! Glowscreen. The formula provides a filter-like finish, not giving coverage so much as delivering a blurring effect. It's available in four shades (including two new ones), so you can opt for a pink pearl, champagne, bronze, or deep bronze finish. Plus, it's SPF 40 and dries down quickly, so you can easily reapply throughout the day as needed.
A Multi-Use Cream Blush With Staying Power
If you want to add a bit of color to your cheeks, you can use this blush and highlighter rolled into one. Saie Glow Sculpt is an innovative cream highlighting blush that provides both color and luminosity. Its lightweight finish will leave you with the perfect flush, so it never feels heavy or chalky in the hot sun. Cream products are particularly useful when you are in the sun all day because they can really melt into your skin without looking powdery or heavy on the face. This highlighting blush also comes in five different shades (with refillable packaging), so you can choose to go for a rosy flush or even a bronzed glow.
Waterproof Tubing Mascara That's Easy To Take Off At Day's End
While waterproof mascara is usually the go-to for a beach day, it's also a complete pain to take off. Instead, opt for a tubing mascara like the MERIT Clean Lash. Tubing mascara uses a formula that wraps each individual lash so that it doesn't budge throughout the day. While not waterproof, the formula holds up well against hot days and sweat, and I've found this particular mascara to be really easy to remove at the end of a long day!
A Concealer That Doesn't Budge
For a long day in the sun, you need a functional concealer that will absolutely not be running down your face. For days when I need a formula that will give me coverage but also last for hours at a time, I turn to this option from Rose Inc. Don't let the dewy name fool you into believing this is a formula that stays "wet." While it does help with significantly brightening dark circles, I also find that it sets pretty well without ever looking dry. Instead of using a traditional foundation, use this to cover up any spots you want to conceal so you can keep your makeup lightweight at the beach.
A Hydrating Lip Balm With a Hint of Color
I can't be the only one who has perpetually dry lips at the beach. And when you combine the effects of the hot sun and the salt air, it's no wonder. That's why it's better to opt for a hydrating lip balm with a little bit of color, like the Summer Friday Lip Butter Balm. Available in six shades (including a clear option), this incredibly hydrating formula gives the perfect amount of color to your lips. The travel-friendly packaging also makes it easy to throw in your bag and reapply throughout the day.
A Soothing Spray
To finish everything off, give yourself a spritz of the Tower 28 SOS Facial Spray. This is a formula I never go anywhere without. It helps keep my complexion fresh throughout the day, but it's especially useful for hot days. That's because it contains hypochlorous acid, which has both anti-inflammatory and antibacterial properties that will help soothe irritation and reduce redness. So while this is great to have on hand pre-beach, make sure to bring the travel size in your beach bag to give yourself a spritz throughout the day if you're dealing with any irritation from the sun.