This Record-Breaking Disneyland Fan Shared His Hacks For The Ultimate Disney Experience
The 55-year-old California native visited Disneyland 2,995 consecutive days.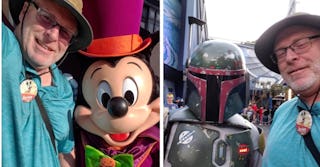 Instagram / Jeff Reitz
A California man recently broke the Guinness World Record for most consecutive visits to Disneyland ever.
Since 2012, Jeff Reitz, a 50-year-old annual pass holder from Huntington Beach has made 2,995 consecutive visits to the "happiest place on earth."
"It started as a joke between friends when Disneyland announced they were giving an 'Extra Disney Day' when they announced the Leap Day 24-hour event in 2012," Jeff told Guinness World Records.
"We decided to use Disneyland as a positive as we were out of work and had annual passes that had been gifted, so it was a source of free entertainment."
"I thought: "Why not make the most of it and try to visit every single day for an entire year?" Reitz added in a piece he wrote for The Guardian.
The Leap Day 24-hour event took place on Jeff's 60th consecutive visit to Disneyland, where he met a reporter from the Orange County Register. The magic took off from there.
"Then on July 1, 2012, halfway through the year, the Orange County Register reporter printed a story about making it to Day 183 and then the Associated Press picked-up the story and it became real as I was getting contacted by newspapers and radio stations from around the globe asking for interviews," Reitz explained to Guinness.
Soon, Reitz — a former Air Force firefighter who currently works as an administrator — had a large social media following. "I would usually take a walk around the park. I enjoy photography so I was always watching for images to capture that I could post to share," he said.
He also started using the hashtag #Disney366 on social media to document his journey. That hashtag and Reitz soon became synonymous.
"Some days I would go on lots of attractions and other times I might focus my attention on a single section of the park."
After a "long and difficult bout of unemployment," Retiz found new happiness and hope in the wonderful world of Disney, writing that the parks became his "sanctuary."
"It was a place where I made friendships with people from all over the world. When times were tough, being able to visit Disneyland at no extra cost was a joy, and I could lose myself within the park and all its attractions for hours," he wrote.
So, given that this man has been to Disneyland almost 3,000 times in a row, it's safe to say that his knowledge of the dos and don'ts of the Disney parks is quite invaluable.
"There is only one 'ride' in Disneyland, being Mr. Toad's Wild Ride," he told Guinness. The Fantasyland dark ride takes you on a jerky and manic motorcar ride with J. Thaddeus Toad, Esq.
However as far as an overall park experience goes, he never misses a visit to the Matterhorn Bobsleds — a pair of steel roller coasters whipping through a snowy landscape where you're met by the one and only Abominable Snowman.
"It's been my favorite attraction since I was little," he said.
His other must-do rides: Soarin' Over California in Disney's California Adventure Park and Rise of the Resistance in Star Wars Land.
Though the rides are always a plus, as someone who has spent so much time in the parks, Reitz wants Disney fans to know that it's about more than just waiting in lines for a quick adrenaline rush.
Some of the best pieces of Disneyland lie in the sounds, smells, and sights of the park.
"There is an area by the boat docks across from the Matterhorn where I like to relax when I visit," Reitz said. "Sometimes, I'll go into Galaxy's Edge and listen to the background sounds and the music. Or I'll climb the Adventureland Treehouse for a nice view."
And while food options are plentiful at Disneyland (to the point of overwhelming), Reitz recommends a stop in Tommorowland for some affordable Italian from Alien Pizza Planet.
If you're a first timer to Disneyland, Reitz told NPR that the #1 thing to bring with you is patience. Bring the largest dose of your patience.
"No matter what, you're gonna be around a lot of people. It's not gonna be just you and your friends and family that are close to you. There's a lot of different people, a lot of different attitudes, cultures, and everything, so you want to be ready for it," he said.
The second most important thing: a portable charger for your phone.
He recommends keeping your phone battery high throughout the whole day so you can take advantage of the the Disneyland app. The app will help you with all your Disneyland needs including looking at "wait times for the various shows and attractions, or to even order your food before you go to get it."
Reitz had hopes of reaching 3,000 consecutive visits, the coronavirus pandemic stopped his Disneyland streak on Mar. 14, 2020 — and he hasn't been back since.
"After being out of the park for three years, going back is a chance for me to have an eye-opening experience," Reitz said to CNN. "It's almost going to be like starting over, and that's exciting ..."
Now would be a great time for Reitz to make his comeback to the parks with Disney's 100th anniversary celebration kicking off, and Bob Iger stepping back into his role as CEO with many new, positive changes on the horizon.