Have a Medical Situation In Disney? Don't Panic — Here's What To Do
Whether you're in your resort room or you're at the parks when a health issue pops up, you're in very good hands.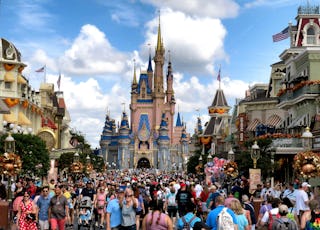 Orlando Sentinel/Getty Images
Traveling with the family means being prepared for all kinds of things, and that's especially true when your trip includes everyone's favorite theme parks. No matter which coast you're on, a trip to the Disney parks involves a lot of planning, plenty of packing, and tons of patience, all of which you're likely well-accustomed to as a parent.
But still, sh*t happens, and sometimes that sh*t happens when you're smack in the middle of the Most Magical Place on Earth. So what do you do if someone in your party has an illness or injury when you're already inside the Disney bubble? And what happens if you or one of your family members needs emergency care?
First, it's worth noting that even though getting sick or injured on vacation (or caring for someone who is) is never fun, there are truly few better places to have it happen than at Walt Disney World or Disneyland, as travel agent, blogger, and Disney planning pro Tina Tolbert tells Scary Mommy.
Both parks have world-class medical services on-site and nearby, meaning you won't have to venture far to get the care you or your loved one needs. That said, you might not know what to do when it happens, so here's everything you need to know before you go.
First Aid 101
No matter where you are on Disney property, if you need medical assistance, you can always reach out to a Cast Member for help, no matter how minor the situation might seem. It's perpetually summer at both parks, which means that heat-related illness, bug bites, dehydration, or blisters are extremely common on both coasts — and that's without mentioning the host of other ailments that could pop up when you're surrounded by thousands of people every day.
There are several First Aid stations on property, including in each park, at Disney Springs, and at the water parks in Florida, as well as in both California parks, with Tolbert noting that the Downtown Disney location has yet to reopen post-COVID.
"The First Aid centers at Disney parks are staffed with nurses that can take care of any number of needs and even minor emergencies," says Tolbert. They'll have pretty much anything you'd need for minor mishaps, including bumps, bruises, cuts, and ailments of all kinds, from over-the-counter medications, EpiPens for allergic reactions, bandages, lip balm, sunscreen, electrolyte-based drinks to help re-hydrate — even eye drops and contact lens solution. Tolbert's daughter recently experienced an urgent broken nail in the parks, and within minutes, a nurse helped out with a nail clipper and a finger bandage to ensure it didn't break any further.
As for what you can expect in each spot, Tolbert says that "the first aid stations look exactly like walk-in clinics and can pretty much do all that a walk-in clinic can do. Each exam room has an exam bed and basic care supplies. While we were there, we saw a guest having his blood pressure checked and another being treated for what looked like some heat-related issues."
There are quiet, private spaces where you or your family can rest, recharge, and administer any treatments that don't require staff assistance.
Where can you find these fabulous First Aid centers? Here's where they're located:
Disneyland Park: the end of Main Street, U.S.A., next to the Baby Care Center
Disney California Adventure Park: next to the Chamber of Commerce on Buena Vista Street
Magic Kingdom: between Casey's Corner and the Crystal Palace, at the corner of the hub on Main Street, U.S.A.
Epcot: at the Odyssey Building, between Test Track and the Mexico pavilion
Hollywood Studios: to the left of the entrance as you enter the park, next to Guest Services
Animal Kingdom: on Discovery Island near Creature Comforts
Disney Springs and Typhoon Lagoon: near Leaning Palms
Blizzard Beach: by Lottawatta Lodge
Of course, if you're in an urgent situation and feeling understandably frazzled, "You can always use the My Disney Experience app to quickly locate them or ask a Cast Member for help finding the closest one," Tolbert notes. If you are in the Downtown Disney District in Anaheim, she recommends reaching out to a Cast Member close by, who can further guide and assist you with whatever you may need.
All parents of littles should know about the Baby Care Centers, which you can find in all four Florida parks and both California parks. At each location, you'll find a comfortable and quiet spot to feed or change your baby, and this is also where you should go in the event you lose one of your kiddos at the park. These centers are fully stocked with formula, baby food, juice, diapers, wipes, sunscreen, and over-the-counter medications — basically anything you'd need to care for baby.
Something More Serious
No one ever wants to think about it, but there are times when you might face an actual medical emergency when at the Disney parks. Instead of calling 911, Tolbert says, "If you are having a genuine medical emergency while in a Disney park, the best thing to do right away is find a Cast Member that can assist. They have walkie-talkies and phones and can quickly get you the help you need."
"If you feel like you can get to a First Aid station, then head there so that you can be assessed by a trained medical professional," she adds. "They can determine if you need to be escalated for further medical attention and possibly call for an ambulance if necessary and assist until arrival. But they are definitely equipped in First Aid to deal with non-emergency needs."
"As for Disney resorts, all of them have 24-hour in-room medical services that are available simply by calling the front desk," says Tolbert. "Disney World also provides complimentary transportation services to the local off-site 24-hour urgent care if necessary."
If you need a prescription med, no sweat. "There are several local pharmacies that deliver to guests at Disney resorts," says Tolbert, who notes that "these pharmacies are experienced with handling needed prescription medicine refills as they cater mostly to tourists."
Rain On Your Parade
Unexpected health issues can delay or derail your park plans, so you might wonder if there's any recourse if you do need to recover in your room or end your trip early. "While Disney doesn't have a published policy on this, they pride themselves in their customer service and taking care of their guests," says Tolbert. "It is not uncommon for guests to receive credits on unused park tickets when an emergency keeps them from using them."
She says that Disney handles these situations on a case-by-case basis, "but they do all they can to assist their guests when a situation like this comes up and it interferes with their vacation plans."
So, whether you're in the planning stages or you're already in the parks enjoying the magic of Disney, you can rest easy knowing that no matter what you might need, you'll be well cared for along the way.