More and More Companies Are Letting Women Opt Out Of Mother's Day Marketing Emails
Some right-wing outlets say the trend is "anti-family."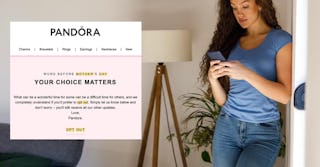 fotostorm/E+/Getty Images
Mother's Day, for some, is a day of love and celebration. For others, it's a painful reminder.
Grief, infertility issues, or traumatic pasts can make a seemingly lovely holiday into a day they'd rather forget. Some major companies and brands have begun to understand this and taken action to help their customers feel a little less pain on Mother's Day.
DoorDash, Pandora, M.A.C., Kay Jewelers, and several other companies have sent out preemptive e-mail blasts to their customers, giving them the option to opt out of any sort of Mother's Day branded e-mails or promotions.
"What can be a wonderful time for some can be a difficult time for others," jewelry brand Pandora wrote in an April 2023 email to customers. "We completely understand if you'd prefer to opt out. Simply let us know below and don't worry – you'll still receive all our other updates. Love, Pandora."
The kind gesture gives a little bit of peace to those who are reeling from the loss of a child or pregnancy, those struggling with infertility, those grieving their own mother who has passed, or those who have painful relationships with their mothers.
Several people applauded the idea that has caught on in recent years with companies like Our Place, Nespresso and Etsy also sending out "opt-out" e-mails to their customers.
"As an infertile person who did years of medical treatments to get pregnant I can tell you this opt-out stuff is not new, and it's something appreciated by the infertility and loss communities and, I imagine, by people who have lost parents or have bad relationships with them...," one Twitter user wrote.
Another Twitter user replied, "As a new member of the 'dead mom club,' I would have appreciated a few more opt out emails this month."
However, unsurprisingly, the thoughtful movement has been twisted into a "woke" attack on women, mothers and traditional family values by many right-wing conservatives who are offended by the trend — which is obviously just trying to help some people feel a little less pain.
Some even outrageously claim that a brand's decision to allow customers to opt out of Mother's Day messaging is a tactic to push "transgender agendas" that ultimately want to eliminate gendered holidays all together.
Right-wing radio show host Charlie Kirk tweeted, "Brands are bending over backwards to let customers to 'opt out' of Mother's Day. Can we opt out of Pride Month spam too?"
Senior advisor to former President Donald Trump and founder of conservative legal group America First Legal also chimed in and wrote, "Mother's Day is 'triggering'? Repugnant. The Left's war on womanhood, motherhood and childhood continues to gather force. Every one of these brands have been captured by the radical anti-women anti-family left."
"Why is our culture so hateful of motherhood," muses Live Action President anti-abortionist Lila Rose.
Is it truly that difficult to think a little bit harder about why a company would do this and maybe (wait for it) have some empathy for those who are experiencing loss? It doesn't take a rocket scientist to understand that this movement has zero to do with any sort of political agenda and actually is just a thoughtful action for customers who find Mother's Day to be a sensitive area.
One Twitter user summed up the eye-roll worthy outrage and wrote, "It is an opt out on AN EMAIL. If you literally do nothing you will continue to get Mother's Day reminder emails. Has nothing to do with the holiday or rainbows or other things that hurt your feelings. How thick are you people?"