My Favorite TV Show Is Making Me Feel Conflicted About My Divorce
Some scenes are hitting a bit too close to home.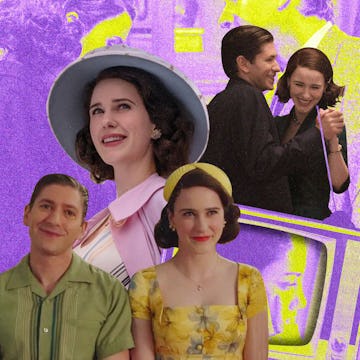 Emma Chao/Courtesy Amazon Video; Scary Mommy; Getty Images
Ever since my husband and I separated, I've been replaying scenes from The Marvelous Mrs. Maisel in my head.
The show — which follows a housewife, Midge Maisel, as she breaks into the standup comedy scene of the 1960s after her husband Joel cheats on her and moves in with his secretary — is a personal favorite. I can't help but love a strong female lead and sharp humor, plus the creator of the show also wrote Gilmore Girls and it even features some of the same actors. For years I've watched the first four seasons on repeat when feeling down.
A show about a midcentury homemaker who bounces back from utter devastation to become a successful comedian doesn't bear many resemblances to my real life: my husband never cheated on me and he never had a secretary either, for that matter. But I watched seasons one through four while my relationship was crumbling, and I found comfort in how Midge found herself and looked fabulous doing it, in a gorgeous array of candy-colored 1960s outfits. "If she can do it, I can do it … if I need to … someday," I would think.
But someday has arrived, and I'm a mess, and I'm worried my cheery coping mechanism might be broken. Season five premieres April 14, and the show is getting to the point in the couples' lives where they're through the worst of their divorce and their relationship as co-parents is in a good place. And I find myself wondering: Will I be able to watch Miriam and Joel move on to new relationships with witty banter and the ease of two people who seem to be completely OK with their situation, when I am still absolutely not there?
There's a scene in season two when Joel tells his best friend he needs a place with space for his kids, because if they aren't with him at least some of the time, he'll go crazy. As soon as my husband moved out, getting beds for our kids into his new home became of the utmost importance, because they've got to be with him some of the time.
In another moment that comes back to me often, Miriam takes the kids to their traditional summer getaway in the Catskills and tells an acquaintance Joel will be joining them. "Why?" the woman asks. "Well, the kids are his, and he likes them," Miriam responds. Since my separation, my parents have repeatedly asked me who's going to watch the kids while I'm (fill in the blank: working, running errands, seeing friends), and all I can think is: they're his kids and he likes them. What happened between us doesn't change his ability to parent.
Of course, I recognize the Hollywood gloss that covers their fictional lives. It's not plausible Miriam's parents can comfortably sit down for a holiday meal with Joel's entire family not long after he cheated on her. And I don't know if my husband is the one I would call in a pickle that doesn't involve our children, as Miriam does when a nightclub manager tries to get away with not paying her for a show.
Even so, the show gives me hope. Like Miriam and Joel, my husband and I care deeply about our children. We want their lives to proceed as normally as possible. We're leaning on our families for support. I have hope that we'll get to a point where we can cheer one another on, help our kids through the tough issues of life and joke about how crazy our own parents are.
In season three, the judge officially grants Miriam her divorce. It's been running through my mind these past few weeks. It's the 1960s, so Joel doesn't have to attend the hearing, but he shows up to offer his support. This throws the judge off, and he encourages these two kids not to rush into anything. If the couple is that supportive of one another, he offers, maybe separation isn't the right decision.
If a couple truly loves each other, truly supports one another, how is separation ever the right choice?
It pains me that it's the right choice for them, and it's excruciating that it's the right choice for me.
But Joel and Miriam continue on with their lives through another season and a half. They remain close. They find success. Maybe that's what will get me through season 5 (because let's be honest, there's no way I'm not finishing this show) — watching two people get through life together apart but still, somehow, as partners.
Isn't that the best a divorced couple can hope for?
Lauren Davidson is a Pittsburgh-based writer and editor focusing on parenting, arts and culture, and weddings. She has worked at newspapers and magazines in New England and western Pennsylvania and is a graduate of the University of Pittsburgh with degrees in English and French. She lives with her four energetic kids, and one affectionate cat. Follow her on Twitter @laurenmylo.