10 Portable Fans & Cooling Accessories To Keep You From Completely Melting This Summer
Baby, it's hot outside — but you don't have to be!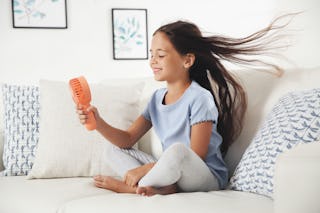 Shutterstock
Summer is in full swing and it's hot out there, amiright? Many kids are at camp without portable fans or cooling accessories, spending hours upon hours outdoors in the sun definitely not doing a good job of reapplying their sunscreen even though you've told them a bazillion times to lather on the lotion... and you finally resorted to warnings about skin cancer and premature aging in the hopes of scaring them into compliance—but I digress.
Your own days are probably hot and sweaty, too, through some combination of commuting, working, exercising, lawn mowing, and/or any number of other outdoor activities. Guess what? There are some highly-rated products out there designed to keep your family cool while you do all those hot summer things. Read on to learn about the best portable fans and wearable cooling gear—none of which will help your kids do a better job with sunscreen, though several of them are UPF 50.
We only include products that have been independently selected by Scary Mommy's editorial team. However, we may receive a portion of sales if you purchase a product through a link in this article.