The FDA Officially Approved The First Pill Specifically For Postpartum Depression
Zuranolone has been approved after several very promising studies.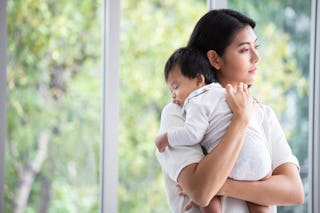 Arisara_Tongdonnoi/E+/Getty Images
Postpartum depression (PPD) affects around one in seven women — a mental health issue that severely harms millions of women and their families during the first year after a child is born. Roughly 20% of maternal deaths are from suicides, which can be largely attributed to postpartum depression, and around 50% of postpartum depression cases are never even diagnosed or treated.
Traditionally, PPD is treated with traditional antidepressants, which can take weeks or months to help. And finding the right drug and dosage can take even longer. And that lag can be devastating for moms and their families.
But a new drug, zuranolone, has now been officially approved by the FDA. And this pill — taken for a short course of two weeks — has lasting effects and can even start working literally overnight, according to studies.
"Having access to an oral medication will be a beneficial option for many of these women coping with extreme, and sometimes life-threatening, feelings," said Dr. Tiffany Farchione, FDA's director of psychiatric drugs, in a statement.
The once-daily, 14-day oral pill just underwent a third trial study, and the results continue to be promising. The results, published Wednesday in the American Journal of Psychiatry, showed that a significant number of a group of around 200 women taking a 50-milligram dose of the medication for two weeks showed "significant improvements in depressive symptoms" after a two-week course of treatment. And those improvements lasted for 45 days after taking the treatment. In comparison, women taking a placebo did not see nearly as strong results.
About 60% of women taking zuranolone felt a 50% or better improvement in their depressive symptoms after being on the drug for two weeks.
"The greatest benefits of zuranolone are its rapid antidepressant effects, short at-home treatment course and generally well-tolerated side effect profile," Dr. Kristina Deligiannidis, the lead author of both studies, told CNN. "For many patients, they may only need a short, acute treatment course followed by close monitoring."
The first trial with the drug, published in JAMA in 2021, also showed that the drug was effective and safe.
"It saved my life. It saved my marriage. It saved my kids," Sahar McMahon, a member of the trial study, said to CNN of her experience taking zuranolone. "Just, the ricochet effect of sitting around, gaining weight, watching TV, going to sleep on the couch, not interacting with my kids, letting them figure it out, letting them stay up on iPads and tablets. I can't imagine how much further I could have fallen into a depression."
The mom of 4-year-old Ophelia and 2-year-old Lenora said that she felt better after just taking one dose of the drug, even though at the time she didn't know if it was a placebo.
How does zuranolone work? It's not an SSRI. It's actually a steroid that is a metabolite of progesterone that occurs naturally in the body. It rises during pregnancy and then plummets after the birth of the baby, and it can greatly affect mood, behavior, and cognition.
"Neuroactive steroids are naturally made in the brain and are breakdown products of progesterone that protect brain networks from the damaging effects of stress and maintain healthy brain network functioning," Deligiannidis told CNN.
Some women in the study reported some mild side effects, including dizziness and drowsiness — in those cases, their doses were lowered.
The drug was granted a "priority review" by the FDA, which is given to drugs that could significantly improve the treatment of a condition. While it approved on a fast track, the drug company will have to provide follow-up reporting. It's unclear how much this medication will cost — or how often it will be perscribed by doctors.
This article was originally published on