These 10 Things Will Make Your Summer Road Trip 10x Better
They really, ahem, go the extra mile.
by Amber Guetebier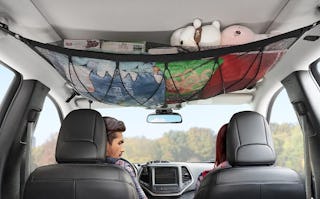 Amazon
We may receive a portion of sales if you purchase a product through a link in this article.
Road trips are a summertime rite of passage for families — but they're not without their hitches. Whether you're heading out for a long weekend trip or you're doing some epic weeks of sightseeing, even the best-planned road trips hit a few bumps along the way. From (way too many) unplanned pit stops to fighting over snacks and arguing about who gets to pick what's on the radio, road trips can be a study in chaos.
The silver lining? You'll make a million memories along the way. Oh, and there are all sorts of gears, gadgets, and accessories out there to make the journey a little less stressful. I've driven hundreds of miles with my family and also asked a few long-haul mom friends what they can't live without when they're on a road trip with kids. Here are 10 things to make life easier on the road.
Now, to agree on a playlist everyone can stand...