The Coolest, Most Family-Friendly Getaway Spots In California If You're Itching For A Road Trip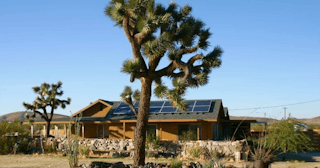 VRBO
It's about time for a weekend getaway, don't you think? If you and your family have been cooped up in the house since March like so many of us, you're probably very ready to get the F out of dodge. For those of you who live in the Golden State or nearby, the opportunities for family getaways in California are practically endless. You don't need to go somewhere exotic like Mexico or Hawaii to enjoy much-needed time away (although those places do sound pretty great). You have all of California to explore, and it's all in a day's drive.
What to look for when searching for a quick getaway with kids
A romantic getaway for two is one thing, but when traveling with kids you've got to make sure that everyone is going to have a good time — parents, teens, and toddlers alike. Ken Barber is a Co-owner of Wildhaven Sonoma, a glamping site in Northern California. He says that when it comes to family trips, one of the most important things is keeping things simple and fun. Having nearby activities is a must and having easily accessible stores makes all the difference for parents — especially when not traveling to a metropolitan city.
"Something easy [is best]…You want a place where the kids have lots to do," Barber says. "With us, the tents and beds are set up, the bathrooms and showers are clean. We have a store to sell last-minute items, and every tent has a fire pit and large picnic table, and a covered front deck with patio furniture. There's very little to pack, set-up, or takedown."
Camping, glamping, and private AirBnB and VRBO rentals became exceeding popular when many hotels and resorts (like Disneyland resorts, hotels with waterparks, and other fun kid-friendly spots) temporarily closed due to the COVID-19 pandemic. As the easier and relatively safer options when looking for California vacation ideas for families. But as things slowly get back to normal, it's clear the trend is here to stay.
Plenty of rentals offer basic accommodations that'll get the job done, but it's the unique ones like Wildhaven that add a little extra magic.
***
We've rounded up some of California's best family-friendly rentals and hotels for the fun weekend trip you and your family deserve. Because as much as you want and need a vacation, your kids do too. So, get those overnight bags ready, grab that travel crib, and head out on your family's well-deserved California family vacation. It's time to get away—even if only for a couple of days.
Note: The prices listed are the average nightly rate.
Best Family Trips In California
This article was originally published on