The Most Popular Baby Names Around The World In The Past Year
Olivia and Liam rule the U.S., but these cute names topping the charts overseas might just give you inspo.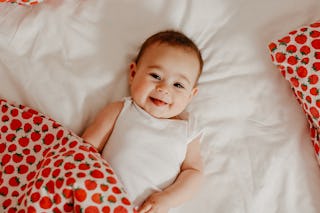 ozgurcankaya/E+/Getty Images
It's hard to find inspiration for the right baby name. It can feel like you're looking for something that is different and unique — and yet easy to spell and pronounce. You might want something that not every other kid is named, but fear that what you pick will suddenly get popular as soon as you sign the birth certificate.
One good strategy? Look beyond the realm of baby naming trends in the United States — and in English-speaking countries — and see what's inspiring people around the world.
Letter Solver recently used manual research to discover the most popular boy's and girl's name in tons of countries around the world over the past year — by searching public records and databases. And there are so many cute ideas and trends happening that are giving us so many ideas.
So, what's the overall most popular boy baby name in the world? Variations on the name Mohammed top the charts in ten different countries.
And the popular girl baby name in the world? Variations on the name Maria (including things like Mia) lead in a whopping 17 different countries.
Seeing a theme here? It seems like names related to religion continue to be the most popular choice globally. Mohammed which means "praiseworthy" is also the name of Islam's profit. And Maria is a variation of Mary, the mother of Jesus in the Christian faith.
Noah, another top boy name in multiple countries, is also biblical.
Looking at the list, there are so many cute, different trending names that American parents could get super inspired by, and looking at names that are popular in a country of your ancestors could be a way to connect with your past.
Some favorite picks from the list for boys include Mateo in Argentina and Chile, Luka in Croatia and Serbia, Adriel in the Dominican Republic, Emil in Iceland, and Ramón in Paraguay.
On the girls list, standouts include Nare in Armenia, Yanet in Cuba, Jade in France, Embla in Iceland, Grace in Ireland, Himari in Japan, and Salma in Jordan. So many cool choices!
In all of Europe, Noah is currently the most popular boy name, while Sofia is the most popular girl name.
One other thing to love about these names? They offer a few great alternative spellings of the classics.
For boys, in Bosnia and Herzegovina, Davud is the most popular name, while in the Czech Republic, Jacub rules. And in Poland, Antoni is the top pick.
Alternative spellings trending for girls include Maryam in Algeria, Sofija in Montenagro, and Zofia in Poland.
Here's a full list of the most popular baby names around the world.