Watch Out For These Quietly Trending Boy Names That You Might Mistake For Being Unique
Even if you haven't heard of them, there might be four in your future son's kindergarten class.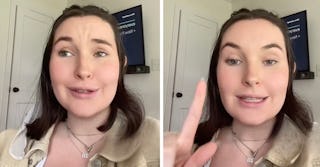 TikTok / @dreambabynames
When picking out a baby name for a child, some parents really want to go against the grain and pick something that is out of the box, unique, and ensures that their kid won't have their last name tagged onto their first for the entirety of their school career (and beyond!). While names like Henry, Oliver, James, Noah, and Liam have topped the baby name charts in the U.S. for literally years, those might actually be on their way out.
One TikTok creator (@dreambabynames) who has an entire account dedicated to baby names and posted a warning to parents that while some might be under the impression that they're naming their baby boy something distinctive, they're actually trending right along with every other parent.
She begins by prefacing that, of course, you can name your kid whatever you want and if trending alongside other kids is not an issue — go ahead and keep doing what you're doing.
"This is not judgmental whatsoever," she begins. "If you love a name and don't care how high it ranks or whatever, use it, love it, enjoy it."
However, if you do care, she warns that names like Knox, Cash, Atlas, and Theodore are about to be some of the most popular names for kids.
"A ton of people recommended Theodore for me for my baby. [They were like] like, 'Yeah, I've just never met one.' They're coming. Theodore is like number one everywhere. Brace yourself," she said.
Sure enough, Theodore has been rising up the ranks in recent years, shooting all the way up to the number 10 spot in 2021, from being down in the 3000s at the turn of the century.
She then lists several more boy names that she predicts will be trending soon, including Silas, Bode, Asher, Ellis, Ezra, Archie, Finn and Otis.
"Hearing those circling big time. I'm preparing myself to meet a ton that at the same age as the baby I'm about to have," she says while remembering one of the most popular quietly trending boy names.
"August. August may be the biggest one. Everyone's baby's names are August right now. It's wild."
While August was only the 121st most popular baby name in 2021, it sure is ascending quickly. Just 10 years ago, it was in the 400s.
The names Maverick, Beau, Bear, and Apollo close out her list.
Her video soon went viral, garnering 3.2 million views and over 250k likes, with over 15 thousand TikTok users commenting with their own thoughts on boy baby names.
"The line between dog names and little boy names gets blurrier each day," one user wrote.
"The trend is being referred to officially as the "dog name trend" and I pee my pants every time I read it in an article," the OP responded.
Another wrote, "As a dog daycare attendant, I have met a German Shepard with each of these names."
Another joked, "Why do all these names sound like a love interest in a Colleen Hoover novel?"
Someone asked, "Where are all the Keiths and Garys?"
The OP wrote back, "Extinct species 🙏"
One of the most interesting aspects of this TikTok creator's list is that the names she mentioned are not anywhere to be seen on the official website for the United States Social Security Administration where Liam, Noah, Oliver, Elijah, and James round out the the top five.
In a follow-up video, the OP details how she decides what kinds of names are quietly trending and basically advises parents to ignore all those baby name websites. "That data's from 2021, we're in 2023. That is old," she begins.
"We're talking about trending in the sense of not top 100, but names that are climbing in the charts and when we get these new stats year after year, this is going to check out," she continues.
She explains that NICU nurses, labor and delivery nurses, and preschool teachers are all confirming her predictions on what kinds of names are on the up and up. "[They] are saying, 'Yup, these names are all on point.' A lot of people think I made them up," she says.
She then goes through her entire process for choosing trending baby names that you don't see on any sort of website. "First of all, I look at naming stats. Even though they're outdated, even though they only go to 2021, I look at those, and I compare how they are charting and they have been for the past like three years," she explains.
She then says that baby naming Facebook groups as well as baby due date groups with moms discussing baby names is a goldmine for predictions as well as her own personal baby name consultations that she holds for clients.
"I hear thousands of parents a week telling me their unique names that they're having for their this year babies, and they're very repetitive," the TikToker goes on. "So I factor all of that in with articles I'm reading about current naming trends, all of this information to get these trending names and they check out."
She also posted an entire video about baby girl names that you might not know are actually trending that you can watch here.