UNC Students Demand Change After Second Active Shooter Lockdown In Two Weeks
The video is guaranteed to give you goosebumps.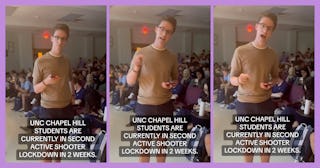 @MarchForOurLives / TikTok
For the second time in the span of two weeks, University of North Carolina at Chapel Hill students were put into an active shooter lockdown. And yes, they are only a few weeks into the fall semester.
On August 28, 2023, Zijie Yan, an associate professor at the University of North Carolina in Chapel Hill, North Carolina, was shot and killed on campus. He was a husband and devoted father. Tailei Qi, one of his graduate students, was arrested and charged with his murder.
Yesterday, just a little over two weeks after the first active shooter, another gunman was on the UNC campus. The university lockdown went into effect at nearly the same exact time as the first, triggering several students to say that they have had enough.
In a gut-wrenching video, one UNC student speaks for many and addresses American legislators who are slow to do pretty much anything about the country's serious gun control issues.
"We are currently in the middle of another shooting," a student says in a darkened classroom filled with students waiting out the lockdown.
"Two weeks ago, a gun was brought to our campus. And yesterday, a group of UNC students from March For Our Lives were kicked out of the state legislator for demanding that our politicians do literally f*cking anything about this."
The protests came as North Carolina lawmakers attempted to pass the state's budget. The Legislature's Republican majority has not announced plans to consider gun control legislation.
At once, the group — wearing matching shirts in UNC colors — stood and chanted "vote them out" at the legislators before being escorted out of the chambers, according to video shared by one of the March for Our Lives co-founders.
"Tim Moore — Republican Speaker of the House of Representatives — mocked us and laughed at us as we left. And today, we are in our second lockdown for the second shooting of our school semester. I am done," the exasperated student said.
"Students are terrified of going to our schools. The one place that should be our sanctuary is our hell. I am pissed. I am angry, and I demand change. Legislatures, do f*cking anything about this."
The pain and desperation in this student's voice should break the heart of anyone who knows that this country has some serious rethinking to do when it comes to gun laws. Yet somehow, the people in power who can actually do something about these senseless acts are the most apathetic.
After the first active shooter, the UNC administration encouraged students to voice their opinion and is expected to launch an online portal to share feedback on the shooting. UNC's chancellor says he wants to hear from students on what could be have been better.
Yet, just two weeks later, another gunman was roaming campus, re-terrorizing students in the exact classrooms they were in during the first incident.
Firearms recently became the number one cause of death for children in the United States, surpassing motor vehicle deaths and those caused by other injuries. The Centers for Disease Control and Prevention (CDC) recently released updated official mortality data that showed 45,222 firearm-related deaths in the United States in 2020 — a new peak.