11 Of The Best (& Cutest) UV-Protection Sunglasses For Kids
Protecting your kid's eyes has never been so stylish.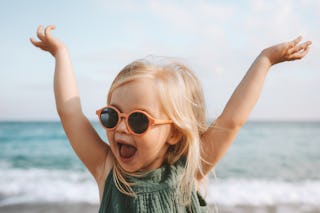 Shutterstock
With the summer months winding down, everyone's squeezing in all the fun summer activities possible: taking trips to the beach or amusement park, spending long days at the pool, and, of course, frolicking in the sun. As exciting as it is to be outside in the warm weather, sun protection — especially protection from UV rays — is important to think about for you and your kids when you're hanging in the great outdoors. And while slathering sunscreen on before adventuring outside has largely been normalized for kids, another vital step to sun protection hasn't been: wearing UV protection sunglasses for kids. In fact, a recent study revealed that sunglasses are just as crucial in protecting your child from the sun as sunscreen.
Kids' eyes are more susceptible to UV damage that can often go unnoticed in the short term and cause harmful effects, like cataracts, in the long term. Wearing sunglasses while playing outside is an easy way to combat the adverse effects of UV rays while also letting your little ones make a fashion statement. But what exactly makes a good pair of sunglasses?
When shopping for sunnies for your kids, be sure to look for frames that are polarized and provide maximum UV protection. According to LensCrafters, specs with a rating of UV400 or higher will block "99.9% of UV rays" and provide complete protection for your kid's eyes. And the best part? You can find frames like these online.
We've taken all the work out of hunting for polarized, UV400 frames. Ahead, find 11 pairs of UV-protection sunglasses for babies, toddlers, and big kids under $30, that are both fashionable and approved for rough and tumble wear. Get ready to add them to your Amazon shopping cart ASAP.
We may receive a portion of sales if you purchase a product through a link in this article.