Ring Around The…Penis? 13 Best Vibrating Cock Rings You've Gotta Try
We only recommend products we love and that we think you will, too. We may receive a portion of sales from products purchased from this article, which was written by our Commerce team.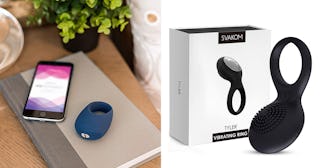 Vibrating cock rings are one of the easiest and most fun ways to spice things up in the bedroom. If you've used one before, chances are you said to yourself, "Why didn't I do this sooner?". But if you're a newbie to cock rings or intimate toys in general, it can seem a little intimidating to try at first. If you aren't sure you want to embrace the cock ring (in more ways than one), there's no need to worry. Along with our newbie-friendly round-up of the best vibrating cock rings, Scary Mommy also chatted with Dr. Jess O'Reilly, Ph.D., a sexologist and Global Ambassador for We-Vibe Tech, to give you the lowdown on your future favorite sex toy.
What is a penis ring?
"Penis Rings are the perfect sex toy if you like the feeling of a snug fit around the base of the penis and possibly around the scrotal sac," Dr. Jess explained. "Designed to trap the blood inside of the penis, they offer the sensation of a firmer, fuller erection. For some penises, they help to prolong the experience, and for others, they can intensify pleasure. Regardless of whether the ring makes you last longer or come faster (there is no shared universal goal!), the result is usually a more intense orgasm."
It's also important to know cock rings are not one size fits all. Dr. Jess says there are several types of penis rings ranging from stretchy and adjustable to textured and vibrating. Some rings sit at the base of the penis and others wrap all the way around the penis as well as the back of the testicles.
What are the benefits of using cock rings?
According to Dr. Jess, some of the benefits of using penis rings include heightened sensation and firmness. They may assist in lasting longer for some people, while others report the intense sensation as the opposite effect (as each penis is unique). Penis rings also create vibrations against the balls, perineum, and shaft as well as vibrations for the partner against the clitoris, vulva, butt, or perineum.
Bringing a cock ring into the bedroom can create a sense of novelty and excitement of new sensations. So, even if it doesn't heighten your orgasm, it might be extra sexy and fun just to try something new. However, it's also important to remember that not every sex toy is a joyride for every person. If you don't like the sensation, there's absolutely nothing wrong and it's time to put the jewels away.
How do you put on a cock ring?
Dr. Jess recommends experimenting a bit. "Some rings are designed to be put on before you get an erection. Others can stretch over the penis while erect. You can follow the instructions on the packaging and adjust according to your own body's response. Though cock rings can offer a slight increase to the size and firmness of an erection, you don't want to overdo it. If it's your first time wearing a ring, try it out for five minutes on an erect penis to make sure it fits and feels comfortable," she says.
Now that we have the basics out of the way, let's get into the good stuff. Here's a list of the best vibrating cock rings you're going to want to try out ASAP!
Best Vibrating Cock Rings
This article was originally published on