These Are Some Of The Worst Items At Costco, According To Shoppers
These products have the most customer complaints.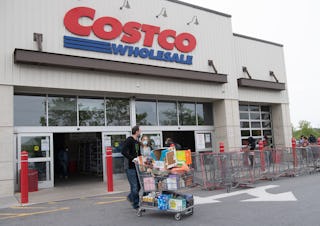 NICHOLAS KAMM/AFP/Getty Images
There is something about walking into Costco that just hits different than any other big box store. Maybe it's the free samples or maybe it's the hypnotizing way those rotisserie chickens spin in the oven. Maybe it's the giant carts or $1.50 hot dogs. Maybe it's a little of everything.
Costco has a cult-like following of shoppers who swear by certain products (Looking at you, 5- pound peanut butter pie) that make Costco worth the membership price. However, with the good comes the bad, and like all stores Costco also has some stuff on their shelves that just doesn't make the grade.
Packaging, prices or even poor quality products are just a few of the reasons why the following Costco items are some of the worst rated by customers.
First off, Costco shoppers loathe the bulk milk cartons because of their weird shaped container that is not conducive with anyone's fridge. According to Julie Ramhold, consumer analyst with DealNews.com, the shape is supposed to help with shipping.
"There isn't anything wrong with the milk itself, but rather shoppers that are forced to buy the square-shaped containers absolutely despise them." Ramhold told Go Banking Rates. The shape is reportedly to make them easier to ship as well as cheaper and more environmentally friendly, but shoppers who have had to use them talk about how the shape is so awkward that many end up spilling it.
And to no one's surprise, customers are crying over spilled milk on Reddit. "Who else has these weird shaped milk containers? I hate them so much no matter how careful or fast or whatever they ALWAYS spill or drip," the OP wrote.
"Couldn't agree more! And they almost don't fit in some refrigerators standing up," one user wrote.
Others offered advice on the best way to pour without spillage issues. "The proven trick is that you don't lift it off the counter when pouring... if you just rock it and don't let the edge leave the counter it won't spill," one Redditor advised.
Another food item that created buzz on the internet for being just...not great... is Real Good's Chicken Grande Enchiladas With Tomatillo Sauce. The frozen precooked dish has only 2g net carbs, 20g protein, and is 100% grain free. Maybe that's why customers are complaining that it's super bland.
One Reddit user wrote, "Honestly one of the worst purchases we've made from Costco. Disgusting."
Another complained not only about how the food tastes but the packaging and design as well. "These are utterly disgusting and anyone who had anything to do with the design, manufacturing, and marketing of them should feel bad about what they've done," they wrote.
Produce can be pretty tricky to buy in bulk (because everyone has left moldy strawberries in the back of their fridge for a week), and according to shoppers, when it comes to produce items, Costco is very hit or miss.
Customers have noticed that some of the produce in stores lacks in quality and freshness, David Scott, CEO and co-founder of Top Reviews, told Go Banking. "The look and flavor…have drawn criticism from certain customers, despite the fact that it is touted as a fresh and healthy alternative."
Just a month ago, a Redditor started a thread asking other Costco shoppers if they had issues with produce or was it just their local store. "The bananas have always been terrible, regardless of location. They go from green, to mottled green/pale yellow/browning to black," they began.
"But over the last 2.5 years, more and more I buy produce just to throw it away. Last week was the final straw when I bought 6 peppers on Friday and went to use them on Tuesday and they were covered in mold."
They continued, "This happens with everything. Stopped buying apples from them 7 months ago because on average, 2 were discovered to be garbage as soon as we got home, and any not eaten within 2-3 days would get all mealy and mushy."
Someone theorized, "I feel like it's because of a transportation / warehouse worker shortage. there aren't enough people who want to work in these areas, so perishable food waits in transit while also going bad."
There were also a few non-food items that made the list of poorly rated Costco items, including the Kirkland brand dishwasher detergent, mattresses, and most home decor and furniture.
Consumer advocate Mitch Goldstone said common complaints are for "furniture and home decor items, particularly issues with assembly or defects."
Additionally, people went off about Costco's delivery methods and customer service.
According to Michael Podolsky, CEO and co-founder of PissedConsumer.com, a product review website, "The posted Costco reviews show that delays with the shipment, missing items, and poor customer service are among the most common complaints from customers. The reviews statistics reveal that consumers are satisfied with the prices and offered items in the store. However, their main disappointment is about the service."