Yes, Hot Topic Still Exists. Here's What It's Like Now.
Remember those intimidating, dungeon-like doors? They're gone, but the store is still kicking.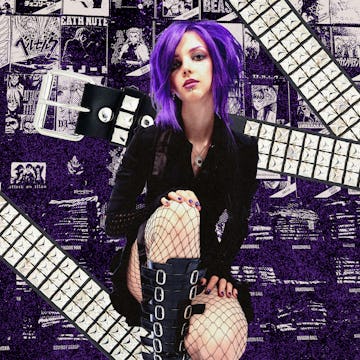 Ariela Basson/Scary Mommy; Getty Images, Shutterstock, Allison Kenien
Here's a fun fact about me: I used to work at Hot Topic as a teen.
The reason this is a fun fact is because people always act surprised to hear that I was a Hot Topic Teen. To be fair, I no longer fit the stereotype of a somewhat moody, early 2000s mall goth. Sure, you can still catch me wearing a Nirvana T-shirt, but you're also going to see me sporting plenty of Lululemon and Lilly Pulitzer. All of my studded belts are gone, and black is no longer the primary color in my closet. I have no tattoos or wild piercings.
I thought Hot Topic was a relic of the past, but my 13-year-old niece recently informed me that the store is still super relevant. In fact, she was downright impressed that I'd once worked there, even if it was circa 2003. And so I decided to revisit my old haunt after 20 years. I was not disappointed.
As I approached Hot Topic, I noticed it was quiet. Way too quiet for what claims to be "the loudest store in the mall." The dungeon-esque storefront was gone, replaced by a shiny modern facade that made it look like a renegade cousin of the Apple Store. And I'm actually glad that they ditched the old entryway. The doors were previously intimidating, which always bummed me out.
Back in the day, it was my job to stand in front of the store and encourage people to come inside. The other employees were an eclectic mix of music-obsessed teens and 20-somethings. Our manager was a punk who loved Bad Religion and brewed his own beer. One woman had a huge bullhorn septum piercing and talked about the forces that supposedly rule the universe. There was a guy with massive dreadlocks and a man with spider tattoos who rode a motorcycle.
Admittedly, I was the most boring — and perhaps approachable — of the group. In fact, after I no longer worked at the store, the manager told me that I didn't match their usual employee profile. He said he hired me because I was hot and would bring in customers. I think he meant it as a compliment.
Back in the 90s and 00s, the focus was on music and fashions associated with goth, metal, rockabilly and punk. Hot Topic wanted to reach the edgy teen who went to Warped Tour with thoughts of rebellion and anarchy. The current store seems less focused on music and more interested in building an empire of fandoms. When I visited, there was a big sign for Disney's Little Mermaid out front and a nauseating amount of anime coated the front of the store.
But beyond the colorful anime merch, Funko Pop and Disney displays, I could see clothing and accessories that looked more familiar. The T-shirt wall in the middle of the store was covered with the same shirts, those black ones with the sarcastic slogans like "ew, people" and "don't hug me, I'm scared" and the array of pop cultural ones featuring Beavis and Butthead, South Park, and Edward Scissorhands.
I ventured onward and found the iconic wall of band tees at the back of the store that still featured bands like Green Day, Nirvana and Sublime. As I looked at the display, the familiar rifts of a Blink- 182 song played over the store's speakers, and a blue-haired sales associate in a Metallica shirt emerged from the storage room. At this point, I needed someone to pinch me because I thought I was 16 again.
Yet there it was — the main wall — and there was a definitive fashion shift happening. A current employee told me that the store was sorted in various fandoms — "Cosmic Aura" collection, covered in stars, moons, and sparkles; "Thorn and Fable," which is hardcore cottagecore; and "Sweet Society," which is like if a traditionally dressed goth was eaten by a My Little Pony, and then spit out with a new creepy cute look. But don't worry: there's still plenty of good, old-fashioned baggy black pants and black shirts covered in chains, studs, straps and zippers.
Then there was the straight-up nostalgia. They've got Hello Kitty purses and Strawberry Shortcake hats, Mickey Mouse club wallets and fuzzy Care Bear earrings. They even have Nickelodeon socks featuring Ren and Stimpy, Invader Zim, Rugrats and Hey Arnold. Clearly, they want to appeal to nostalgic millennials as much as anybody else.
As I drove home, I realized I didn't buy anything. My kids would have loved the stickers, patches and pins that have always been a Hot Topic staple. The store has a huge collection of these goodies featuring Baby Yoda, Stitch, Hello Kitty, Keroppi, Harry Potter, SpongeBob and a bunch of other characters that my kiddos love.
My children are still a little young for Hot Topic but given that the store has figured out ways to stay relevant for 34 years, I'm sure it will still be around when they hit their teen years. And at that point, I'll probably be ready for another ride down memory lane.
Allison enjoys spending time with her husband, her 8-year-old daughter and her 4-year-old son. She loves skiing, snowboarding, golfing and (most of all) socializing in the lodge or clubhouse afterwards. She's always on a quest to find the best new movie, book, restaurant, lifestyle trend or family adventure. She also loves starting overly ambitious DIY projects, which she may or may not choose to complete. She is grateful to have amazing mom friends who provide her with many real-life stories and practical insights that inspire her articles. Her friends have called her the "wild card" of the group due to her unpredictability — a title she wears with honor.