Lipstick Readers Are A Thing, And We Want In On The Fun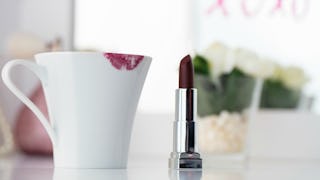 bulentozber/ GettyImages-917451536-2
I just went to Target and replenished my lipstick supply, I was running low and needed a fresh red, a cute spring pink, and my favorite — a clear gloss to make my kips look extra kissable. I've always been a fan of a sexy lip, especially since I can't pull off a smokey eye to save my life, but also because sometimes a swipe of lipstick is all we need to feel like we can take over the world.
And if you've ever wondered if world dominance might be in your future, behold: the fascinating world of lipstick readers. And something tells me, before long we're all going to want in on the magic. After all, who doesn't want to sit around with a bunch of their besties wearing some fabulous lipstick while sipping on wine and have their fortune read? Sounds like the perfect afternoon or evening to me.
A lipstick reader is exactly what it sounds like: A person who looks at your glorious lip prints on a piece of paper after you give it a kiss wearing your favorite shade of red, coral, pink, or nude, and can take a peek into your present, past, or future.
Yes, please, I'll take a lipstick reading over tarot cards any day. And how much fun would it be to attend a party or shower with this kind of excitement? Your lips will already be dressed for the event. All you have to do is kiss a piece of paper, sit back, and listen to someone talk about you in between bites of cake and sips of wine.
You didn't know you needed this kind of deliciousness in your life now, did you?
But if you are interested in having a lip reading on your own, Anna Snodgrass, a certified lipreader, tells Marie Claire how you can do it on your own, even without her help.
I couldn't help but try it out as soon as I read the article. My lip print is a rectangle shape which supposedly means I am "a 'salt of the earth' person who is the go-to person for advice, money, or muscle. You're what Lipologists call the 'godmother' or 'godfather' of your community."
Okay, I'll take it. I really do get asked for advice a lot — whether I know what I'm talking about is another story, but people do ask me, so I'm thinking this lipstick reading shit is pretty damn legit.
My mom wanted to test it out, and she too had a rectangle shape. Is your lip print genetic? Maybe, but I'd have to say, lots of people seek advice from my mother (and she actually does know what she's talking about). Strangers are drawn to her, and I've watched her talk people through a lot of stuff. Does she sometimes give unsolicited advice? Definitely, so I have to say her lip print rings true to her personality.
My best friend of almost 25 years wanted to join in the fun too. She sent me her lip print, which is a triangle shape, and told me right away she thought it looked like a vagina (which naturally made me LOL, and is just one of the reasons we are besties). According to the article, a triangle lip print means,"You help others to succeed. You recognize other's skills and abilities, helping them to recognize these skills and abilities in themselves."
Now, I'm a sentimental bitch, and I can admit that, so I'm not embarrassed to say that reading this gave me chills. Because that girl has gotten me through some of the toughest situations of my life. She's pushed me, she's believed in me, and I've never had a friend who has wanted me to do well in every aspect of my life like she has. She is my rock, my cheerleader, and I would not be the same person if I didn't know her. I never thought a lipstick reading could bring me to tears, but here we are.
So three for three in accuracy. I'd say that lipstick readers might be onto something. Now if they could just tell me if I'm going to win the lottery next week, we'd be all set.
What are you waiting for? See if there is a lipstick reader in your area, or follow the guide and gather a bunch of girlfriends and put this theory to the test. It's so much more fun than reading tea leaves, or your palm. Not to mention it's a great excuse to splurge on your favorite lip color.
This article was originally published on