Hold On To Your Trapper Keepers — Lisa Frank Makeup Is A Thing
by Love Barnett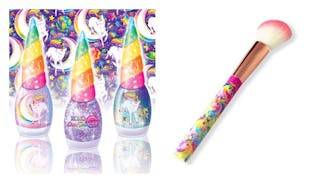 Glamour Dolls Makeup
Hold on to your rainbow leopard Trapper Keepers, people. It wasn't enough to have adult coloring books and a branded clothing line. Lisa Frank has officially collaborated with Glamour Dolls cosmetics company to bring us the makeup of our '90s rainbow-sparkles-dolphins-and-unicorns-covered dreams.
Glamour Dolls is an indie cosmetics brand, popular and rising fast, due in large part to their dedication to price points (everything except the Lisa Frank collection is $5 or less) coupled with their drive to keep everything cruelty-free and vegan. Curated by makeup artist Jessica Romano, their mission is "to put out high-quality cosmetics at a price that every doll in the world can afford."
Popular beauty vlogger, makeup artist, and all-around adorable human Kandee Johnson announced in March that a Kickstarter campaign to bring a Lisa Frank collab to life was underway, and the response was amazing. In just over a month, almost 6,000 backers have raised almost $400,000 toward this project, which is a tiny bit above their goal of $30,000.
The line was teased earlier this month with Ipsy's glam bag, where subscribers were delighted to find a Lisa Frank angled blush brush inside.
Other products now available to preorder include more brushes, lipsticks, highlighters, and eyeshadows, all rainbow and unicorn inspired, although no word yet on exact shades.
Among the products being finalized for production right now is "Markie's Magical Manicure set." Not only do these sets feature Markie the Unicorn's horn as the brush handle, but they will also be scented.
But the real star right now is the eyeshadow pallet that looks like a Lisa Frank Trapper Keeper. Yes, that's what I said. A rainbow and glitter covered Trapper Keeper eyeshadow pallet. The fifth-grade me is weeping tears of glittered joy right now.
You can preorder now on Glamour Doll Cosmetics' website for the September 2017 launch.
Me too, Alison. Me too.
This article was originally published on