There's A Lizzo DNA Test That Reveals What Percent 'That B*tch' You Are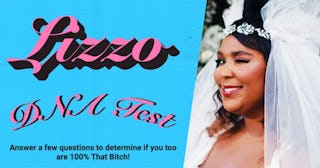 Spotify and Lizzo Music/Youtube
Take Lizzo's very own DNA test to find out your "that b*tch" score
Lizzo is having quite a moment. The singer/rapper/flutist has been stealing everyone's hearts with her self-love anthems, her body-positive stage performances, and her perfect summer bangers. Her most viral song to-date is "Truth Hurts" which features the iconic and meme-able line, "I just took a DNA test, turns out, I'm 100% that bitch!" Everybody loves this song and now you can love the song and find out what percent "that bitch" you are.
Lizzo teamed up with Spotify for the "Lizzo DNA Test" which helps you determine if you're a real one or not. You need to have a Spotify account to participate, but once in, you'll upload a selfie and answer 10 questions, which include ones like, "Who's your 'new man'?" to which you can reply: health food store employee, Minnesota Vikings player, singer Anderson Paak, and "whoever is most paid." We're sure you can gather which of the above is the correct choice. Other questions include: "Who's the Baddest Bitch?" "What kind of pet do you have?" and "Do you play tag?" to which the only correct answer is "bitch I been it."
After you upload a selfie and run through the 10 questions, it will issue your score. I took the test and clocked in at a depressing 59% "that bitch." I probably should have selected "flute" for the instrument question and not the totally basic piano, ugh. Lesson learned.
I also don't feel that bad because Lizzo took the test and turns out she's only 93% that bitch. Oop!
https://twitter.com/jetpack/status/1166606789468741637
Once you take the test, it will direct you to Lizzo's curated "That Bitch" playlist which includes other hype-songs for ladies like "Boss Ass Bitch" by Ptaf, "Bodak Yellow" by Cardi B, and of course "Independent Women, Pt. 1" by the great Destiny's Child.
The good people of the internet also took the DNA Test and turns out that… literally nobody is anywhere near Lizzo's level of "that bitchery."
https://twitter.com/jetpack/status/1166607377493319680
https://twitter.com/jetpack/status/1166609240766767104https://twitter.com/jetpack/status/1166751305358041089
Lizzo released "Truth Hurts" in 2017, but it wasn't until this spring that it started to blow up, thanks in part to a feature in the Netflix movie Someone Great, which showed Gina Rodriguez's character dancing around her apartment to the song after a breakup. The clip on YouTube has been watched over 2 million times with very good reason — it is pure magic.
Now people are clamoring to take their own DNA tests, which is wild, because when Lizzo released the song in 2017 to zero fanfare, she was so devastated that she thought about retiring from music.
"The day I released 'Truth Hurts' was probably one of the darkest days I've had ever in my career. I remember thinking, 'If I quit music now, nobody would notice. This is my best song ever, and nobody cares,'" Lizzo told People. "I was like, 'Fuck it, I'm done.' And a lot of people rallied; my producer, my publicist and my family, they were like, 'Just keep going because this is the darkest before the dawn.'"
Hustling, believing in yourself, and never giving up — that is what it means to be 100% that bitch.