Lizzo Addresses The Double Standards In Body Shaming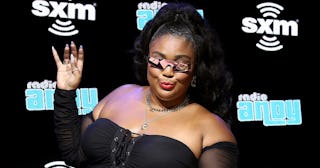 Cindy Ord/Getty Images for SiriusXM
Lizzo responded to an interviewer's question about not being 'conventionally beautiful' in the best way possible
Lizzo's said it once, and she'll say it time and time and time and time again: She is not here for the body-shaming. And more recently, the Grammy award-winning singer-songwriter sat down with Brazil's TV Folha for an interview where she addressed just that and much more, including not only loving your own body, but also the double standards on body criticism.
Lizzo started off the interview addressing what it felt like to get nominated for multiple Grammy awards: "I was so excited. The whole thing kind of happened so fast, didn't it? But I definitely felt like my album was good. I put everything into it, and I feel like it deserved it." She also addressed how it felt not winning all eight Grammys for which she was nominated: "Who the fuck expects to win all eight that you're nominated for?! I won three Grammys! How many Grammys you got?!"
Then, interviewer asked Lizzo quite the question: "How did the people first react in the USA when they saw that you and realize that you didn't follow all the conventions of beauty of physical conventions?" But, as she does, Lizzo answered it like the perfect goddess she is.
"They were just like, 'Wow, she's so beautiful; she's perfect.' And I was like, 'I know, right?'" she said with a laugh.
But of course, the interviewer presses it, asking her if she's successful because of her appearance.
"I think that women are always going to be criticized for existing in their bodies," Lizzo started, "and I don't think I'm any different than any of the other great women who've come before me that had to literally be politicized just to be sexual… you know what I mean? [Just to] exist."
But she doesn't stop there. Strap in, because the rest is equally as applause-worthy.
"Things that were beautiful on them were called flaws, and they persisted against that, fought against that, and now I'm able to do what I do because of those great women. And they all look completely different, they don't all look the same, and they all had to deal with the same kind of marginalization and misogyny," she said.
Finish him, Lizzo.
"So, what does that tell you about the oppressor? What does that tell you about men? Get it together, we don't talk about your dick sizes, do we? Like, 'That's not a conventional dick size, it's too small.' We still let ya'll asses run all over the goddamn place."
Lizzo also addressed the lack of representation in the world, especially for women who look like her.
"But my choice process was to make myself visible, not to shrink," she said. "To be heard and use my platforms to raise other women. That's why I put black and big dancers and also an entire orchestra of black women on the Grammy stage, because I think that if I can help them, I must help them."
Please do yourself a favor and watch the entire interview above.