Lizzo Got Macaulay Culkin To Do 'The Sprinkler' And It's Everything Good In This World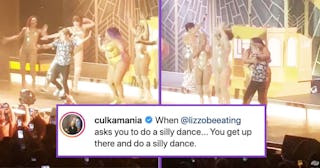 Macaulay Culkin/Instagram
Lizzo invites Macaulay Culkin onstage to dance with her during a concert stop in Los Angeles
Are you ready to feel joyous on this Tuesday morning? Great! If you like Lizzo and nostalgia, you'd probably love this video of Macaulay Culkin, yes the kid from Home Alone, doing "the sprinkler" onstage at Lizzo's concert in Los Angeles.
Why was Macaulay Culkin of all people dancing on stage with Lizzo on Monday night? Literally no idea. But the facts are that this video is full of pure joy and light.
Upon closer inspection, it appears that Culkin and Lizzo are actually friends, which is evidenced by Culkin tweeting, "Went to see my friend @lizzo tonight…" and then Lizzo tweeting back, "LOVE UUUU."
During the concert, Lizzo does a bit where she sings and dances to that timeless elementary school call and response song known as the "Gigolo Game." During this interlude, she always invites someone, usually an audience member, on stage to dance and twerk with her. During the Los Angeles tour stop, Lizzo started dancing and singing the "Gigolo" song as Culkin surprised the audience and ran onto the stage with her. At first nobody realized who he was — because Culkin just looks like any random thirty-something hipster — until Lizzo yelled into the mic "Hey Macaulay? You ready? To gig-alo!"
When Lizzo introduced her iconic friend, the crowd went wild.
Lizzo and Culkin actually go way back. Culkin appeared in Lizzo's 2014 music video for the song "Faded." Yes, five whole years ago. Not only does this prove that Lizzo and Culkin really are true friends, but it proves how talented and resilient Lizzo has been as she's slowly tried to prove to the music industry that's she's a talented queen who deserves every ounce of the recognition she's finally getting.
In the video, Culkin sits around a bonfire with a very blonde Lizzo. It's random. It's great.
https://twitter.com/jetpack/status/1186553827757056000
Back in 2014, Lizzo wasn't the "Truth Hurts" radio-topping songstress she is now. She was an alt-rap artist with a niche, but devoted fanbase so when she dropped this video, her fans were like, "wait, is that the Home Alone kid?"
After Culkin shared the dancing video from the concert, his fans chimed in to thank him for putting them onto the Lizzo beat. "Thank you so much for talking about her on [your podcast]," wrote one fan.
"I'll always leave the house for a @lizzo show," Culkin tweeted after the concert.
We never knew how much we needed to see child-actor Macaulay Culkin dance onstage with reigning pop champ Lizzo, but now that we've seen, we are better for it.
We'll leave you with one more angle of Culkin's spectacular and enthusiastic dance moves.
God bless Lizzo and Macaulay Culkin only.