Lizzo Goes To Lakers Game In A Thong And People Are Literally Fighting About It
by Julie Scagell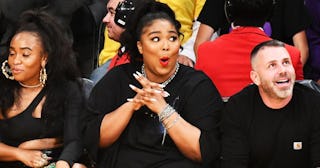 Allen Berezovsky/Getty
Lizzo rocked a black dress with the backside cut out and the internet definitely has thoughts
Lizzo is used to making headlines wherever she goes because she's magic and light and gives not a single crap what anyone thinks of her. That attitude was front and center while sitting court-side for the NBA matchup of the Lakers vs. The Timberwolves over the weekend. The singer danced as the Lakers' cheerleaders performed a routine to her hit song, "Juice." When she turned around, fans watching the Jumbotron got quite the surprise when cameras showed Lizzo's butt covered only by a thin thong.
"This is how a bad bitch goes to the Lakers game vs Minnesota," Lizzo said walking into the arena with a cocktail in her hand. "You bitches can't even spell Minnesota!"
Like, she got INTO it. And good for her.
People, of course, had a LOT to say about her outfit, both positive and critical:
Lizzo's a big fan of the Minnesota Timberwolves. In fact, she lived in Minneapolis while recording her 2013 album, "Lizzobangers," regularly playing concerts around the Twin Cities.
And this probably nails Lizzo's take on the whole thing.
The body-positive singer isn't shy about showing off her body. She regularly posts photos on Instagram celebrating her curves, posting one just last week from when she appeared in the movie Hustlers alongside Jennifer Lopez. She also made headlines at the AMAs in a gorgeous short dress and teeny-tiny purse.
Lizzo isn't one to back down or feel like she shouldn't show her body because she's not a size 2 model. She told Glamour earlier this year, "When people look at my body and be like, 'Oh my God, she's so brave,' it's like, 'No, I'm not'. I'm just fine. I'm just me. I'm just sexy. If you saw Anne Hathaway in a bikini on a billboard, you wouldn't call her brave. I just think there's a double standard when it comes to women." She's not wrong.
The singer was definitely enjoying herself during the game and even told reporters before that she's a huge Karl-Anthony Towns fan. She's continuing to make music and is nominated for eight Grammy Awards (the most noms for an artist this year), including Album of the Year, for "Cuz I Love You" as well as record and song of the year for her hit, "Truth Hurts."
Clearly, this is Lizzo's world right now and we all just live in it, NBA fans and all.