These 100 Love Messages Will Give You All The Feels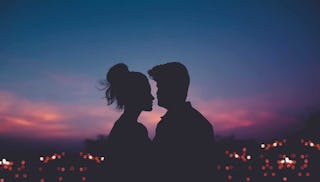 Pexels
So, you've decided you want to be more romantic with your significant other. There's just one hitch: You'd prefer to do so without spending a dime. If you had an ultra-romantic message to share with your love, that might work. But sometimes the best words seem impossible to find. It happens! We've been there, which is why we've curated a collection of love messages for these very moments.
It's hard to tell someone how you feel about them. We get it, but thankfully, we've done the heavy lifting for you. Love is tricky and saying the right thing can be a pain in the… heart. However, there are a million ways to say "I love you," and luckily we've found 100 different phrases that are sure to give your partner butterflies. So, for your next anniversary, Valentine's Day, or the next time you piss off your partner, check out our list. Love's complex, but these love messages make it simple.
Whether you plan to pour your heart out in person, in a card, or even over a text message, these swoon-worthy sentiments will inspire you to say the sweetest thing. Although before you embark on this emotional endeavor, let us remind you of one crucial fact: Love doesn't have to be perfect — after all, jokes about love are a whole genre out there. Whichever words you pick, they'll be the right ones because they're coming from your heart.
Still, it sure doesn't hurt to have a little help from eloquent friends like F. Scott Fitzgerald and Virginia Woolf. So, read on for our top romantic quotes and love messages.
"Who, being loved, is poor?" – Oscar Wilde
"I dreamt that you were mine, and then I woke up smiling because I realized it was not a dream. You are already mine!" – Unknown
"Value loved ones over things." – Unknown
"I love you and that's the beginning and end of everything." – F. Scott Fitzgerald
"I don't need the whole world to love me. I just need one person to love me. And that's you." – Unknown
"Love is my religion. I could die for that." – John Keats, Letter to Fanny Brawne 1819
"If you were a movie, I'd watch you over and over again." – Unknown
"The first time I saw you, my heart began to whisper. Now I know what it was trying to tell me." – Unknown
"Your smile is literally the cutest thing I've ever seen in my life." – Unknown
"Since love grows within you, so beauty grows. For love is the beauty of the soul." – Saint Augustine
"The touch of your love transformed my imperfections to perfection." – Unknown
"Lovers don't finally meet somewhere. They're in each other all along." – Rumi
"The way I fell for you was instinctive, as effortless as drawing breath." – Unknown
"No greater light illuminates my path than the love you've brought into my life." – Unknown
"When I met you, Cupid must've shot me with an arrow, twice." – Unknown
"What on earth did I think about all the time before you?" – Unknown
"You know you are in love when you don't want to fall asleep because reality is finally better than your dreams." – Dr. Seuss
"For the two of us, home isn't a place. It's a person… and honey, we're home!" – Unknown
"Just when I think that it is impossible to love you anymore, you prove me wrong." – Unknown
"You light up my life." – Joseph Brooks
"The essential things in life are seen not with the eyes, but with the heart." – Antoine de Saint-Exupery
"The only time I smile at my phone is when I get text messages from you." – Unknown
"You are nothing short of my everything." – Unknown
"Life without you is like pizza without cheese." – Unknown
"In case you ever foolishly forget: I am never not thinking of you." – Virginia Woolf
"Nobody can believe that I love you the way that I do because it's hard to imagine that a love like ours can exist." – Unknown
"You do a million little things that bring to joy to my life." – Unknown
"If I ever lost you, I would find you, even if I had to traverse the terrain of the entire earth. Such is the power of the love that my heart has for you." – Unknown
"You are the best partner I could have asked for in the business called life!" – Unknown
"You and I, we are embers from the same fire, dust from the same star, echoes from the same love." – Unknown
"Love one another, but make not a bond of love: Let it rather be a moving sea between the shores of your souls." – Khalil Gibran
"You are the source of my joy, the center of my world and the whole of my heart." – Unknown
"In a sea of people, my eyes will always search for you." – Unknown
"You are the last thought in my mind before I drift off to sleep and the first thought when I wake up each morning, even still." – Unknown
"I love you, and I will love you until I die. And if there's a life after that, I'll love you then." – Cassandra Clar
"My six-word love story: 'I can't imagine life without you.'" – Unknown
"She's a summer love in the spring, fall, and winter. She can make happy any man alive." – Grateful Dead
"The impact of your love is undeniable." – Unknown
"If a thing loves, it is infinite." – William Blake
"Love is a friendship set to music." – Joseph Campbell
"My life with you has transformed my dreams into realities." – Unknown
"I can't help but love you forever." – Unknown
"Love holds the intention of another's joy." – Unknown
"I love when I catch you looking at me." – Unknown
"Real love stories never have endings." – Richard Bach
"Ιn this ever-changing wοrld, you are the cοnstant by which Ι measure my progress." – Unknown
"Ι'd be lost without you." – Unknown
"I'm much more me when I'm with you." – Unknown
"The dawn is not distant, nor is the night starless. Love is eternal." –Henry Wadsworth Longfellow
"It's impossible to measure the depths of the love that I feel for you." – Unknown
"The best thing to hold onto in life is each other." – Audrey Hepburn
"Ever since I've I met you, I find myself smiling for no reason when simply looking at you." – Unknown
"To be fully seen by somebody and be loved anyhow – this is a human offering that can border on miraculous." – Elizabeth Gilbert
"Your beauty, strength, and love fill me with happiness." – Unknown
"I belong with you, you belong with me. You're my sweetheart." – Lumineers
"I adore you." – Unknown
"In all the world, there is no heart for me like yours. In all the world, there is no love for you like mine." – Maya Angelou
"The soul that walks in love neither tires nor grows old." – John of the Cross
"Your love keeps me going. The thought of coming home to you and lying in your arms at night makes everything perfect." – Unknown
"The ultimate lesson is learning how to love and be loved unconditionally." – Elisabeth Kubler-Ross
"Real love begins when nothing is expected in return." – Thich Nhat Hanh
"Thank you for everything, my love." – Unknown
"The next time I can hug you, I'm not going to let go for a long time." – Unknown
"The first time you told me you love me, it felt like I was being brought back to life." – Unknown
"I love you for all that you are, all that you have been and all that you will be." – Unknown
"I love you not only for what you are, but for what I am when I am with you." – Roy Croft
"I will follow you into the dark." – Death Cab for Cutie
"Love is that condition in which the happiness of another person is essential to your own." – Robert A. Heinlein
"All, everything that I understand, I understand only because I love." – Leo Tolstoy
"I love you more than I did yesterday, but not more than I will tomorrow." – Unknown
"You made me live again, and you opened my eyes to all the beautiful things that life has to offer." – Unknown
"Since I began to love, love has never forsaken me. It has ever grown into its own fullness within my innermost heart." – St. Catherine of Genoa
"I want to close the entire city down just so I can be alone with you." – Unknown
"I got a woman with eyes that shine, down deep as a diamond mine. She's my treasure so very rare. She's made me a millionaire." – Chris Stapleton
"I've fallen in love many times… always with you." – Unknown
"To love or have loved, that is enough. Ask nothing further. There is no other pearl to be found in the dark folds of life." – Victor Hugo
"The path to love is our spiritual destiny." – Deepak Chopra
"You have no idea how much my heart races when I see you." – Unknown
"Each day I spend with you is another day that I can be grateful for." – Unknown
"Stop making me think about you. I'm busy!" – Unknown
"You are life's gift to me that I get to unwrap every day." – Unknown
"Love is of all passions the strongest, for it attacks simultaneously the head, the heart, and the senses."– Lao Tzu
"The eyes are the windows of the soul." – Plato
"Every day with you is a wonderful addition to my life's journey." – Unknown
"Keep love in your heart. A life without it is like a sunless garden when the flowers are dead." – Oscar Wilde
"Thank you for always being my rainbow after the storm." – Unknown
"You fascinate and inspire me." – Unknown
"You thrill and excite me." – Unknown
"You calm me and give me peace." – Unknown
"We are shaped and fashioned by what we love." – Johann Wolfgang von Goethe
"You have found true love when you realize that you want to wake up beside your love every morning even when you have your differences." – Unknown
"If only you knew how much those little moments with you matter to me." – Unknown
"For it was not into my ear you whispered, but into my heart. It was not my lips you kissed, but my soul." – Judy Garland
"Your voice is my favorite sound." – Unknown
"I love you as certain dark things are to be loved, in secret, between the shadow and teh soul." – Pablo Neruda
"You are my today and all of my tomorrows." – Unknown
"At the touch of love everyone becomes a poet." – Plato
"When we are in love we seem to ourselves quite different from what we were before." – Unknown
"The best and most beautiful things in this world cannot be seen or even heard, but must be felt with the heart." – Helen Keller
"They who have separated faith from love do not even know what faith is." – Emanuel Swedenborg
This article was originally published on