Magnetic Lashes Are All The Rage — But Are They Worth The Hype?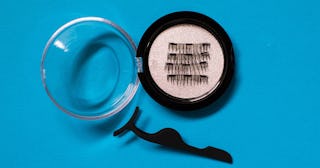 Viktoriya Abdullina/Getty
I love a nice, full set of lashes. I'm pretty sure I've tried every mascara in the book in order to give me the lashes I want but don't have. I've also tried several serums and went through a spell of getting lash extensions.
Then I heard you can get lash lice, and all my money was going towards keeping my false lashes filled, and I realized I had better things to do with my time and money.
I've also tried the glue-on lashes, and though I've always loved the way they make my eyes pop, they are hard for me to put on, and there have been too many times I've gotten in a fight with the tube of glue and stood over my bathroom sink wondering why I was dedicating a full hour to get my fake lashes on right.
If I could have someone come over every morning and do them for me, I'd definitely sign up, but alas, that's not happening anytime soon.
When I heard about magnetic lashes, I thought I'd give them a try. I mean, what could be easier than having lashes attach to your eyelids with magnets, right?
I saw women wearing them on Instagram looking fabulous and I figured with a quick "Buy now" press of the finger, they would look just as fab on me … and I wouldn't have to throw a tantrum applying them.
Only, I didn't look like the Instagram models when I first tried them. Instead, I looked like someone who'd gotten into a bucket of asphalt and painted it all over my face and hands.
I'll pause now to admit that following the directions (especially when you are putting something near your eyeballs) is key. There are times when I get too excited and anxious, dive right in, and figure it will all make sense once I get started. This was one of those times.
After putting away my first set of magnetic lashes and thinking they weren't for me, I talked to a friend who said she'd been using them and loved them. She gave me some much needed pointers:
First, these lashes come with magnetic eyeliner that you apply to your eyelids. It's imperative that you swipe this on, then let it dry. The first time I did this I didn't wait long enough, so when I went to adjust my eyelashes, the eyeliner smeared all over the place and I wanted to punch my bathroom mirror and rip those little lashes up and flush them in the toilet.
Word to the wise here: let them dry for a while. My friend said she stretched out her eyelid, applied the eyeliner (it doesn't have to be perfect, that line will be covered), then she did her hair, and ironed her clothes before she put on her lashes. If she's short on time, she closes her eyes and gives them a quick blow with her blow dryer.
Waiting longer made all the difference. The second time I tried to put my lashes on, they stuck beautifully.
Another tip you already know if you are a falsie expert is to hold the fake lashes up to your eyeball and measure before applying. If they are too long, go ahead and snip them so they fit on your lid. Eyelash overhang doesn't look or feel good, folks.
Once I got these key tips down, I was ready to try a few different kinds to see which ones I liked best.
First, I tried Lamix magnetic lashes. They were under $7 and they looked natural, which I liked.
They went on nicely, and I had to trim them a bit which was easy to do. They stayed on all day and didn't budge until I washed my face that evening. Removing the magnetic eyeliner is pretty easy — most of it comes off with soap and water. I did have to remove a bit more with a makeup wipe after, but it came right off.
You can definitely feel them on your eyelids. The magnetic kind are heavier than their lash-glue counterparts, but easier to remove so it evens out.
Next, I tried the EARLLER Magnetic lash and eyeliner kit. I decided on this one because it came with two tubes of the liner and seven different styles of eyelashes to try for under $15.
These fit my eyelids perfectly and I didn't have to trim them at all. The magnets in all of these lashes were a bit heavier than the Lamix and give the appearance of wearing heavier dark eyeliner — a look I love on other people — but I've never been able to pull off black eyeliner no matter how much I blend or experiment.
My skin is fair and my eyes are close-set, so maybe that has something to do with it. I'm sure a makeup artist could give me some tips, and perhaps there's a way to blend the black line a bit, but I am far from a makeup expert. I tried these with my usual beige eyeshadow I wear everyday and finished them off with some mascara I'm not sure I needed. You could definitely skip that and wear these lashes naturally.
The EARLLER lasted all day as well, and everything washed off that evening with my face wash and water.
So, while I love these magnetic lashes on other people and do agree they are a lot easier to use, they just don't look good on me because of the dark line they leave on my upper lids.
If you can pull off that look, you will love magnetic lashes — and also the fact that most pairs can be reused quite a few times and are easy to take off. Since it's such a hot trend lately, there are magnetic lashes at just about every price point; one Scary Mommy editor swears by MoxieLash, which cost up to $30 a pair, but the cheaper ones are far lower risk to experiment with.
They really are fun to play around with, and now all my girlfriends love wearing them for date night.
As for me, and everybody else who has trouble with a dark black line, I'm hoping they will come up with clear magnetic liner and clear magnets for the lashes so I can partake in this trend with more confidence … and give people lash envy to boot.
This article was originally published on