Throw A Little Shade At Boredom With These Makeup Coloring Pages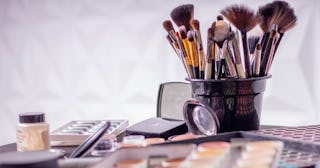 Anderson Guerra/Pexels
Makeup can be a lot of fun — especially for kids. When kids view makeup, they don't necessarily think about hiding imperfections. Instead, they think about what a blast it'd be to add colors to their nails and eyes. Makeup coloring pages are equally entertaining, without the mess or expense. Sure, makeup coloring pages might not completely satisfy a four- or five-year-old who wants to apply makeup like their parents, but it's an excellent way for them to learn more. You can even use these pages as a teachable moment to talk to your child (or your tween) about application techniques and the importance of washing your face after wearing makeup. Or, if you're feeling adventurous, you could even finish off these coloring pages by letting your little one get creative with cosmetics on your face!
With makeup, you can transform. In a way, it can also be used as an accessory. Finding a fantastic look for a party or wedding is an exciting element of growing up. Consider makeup coloring pages to be the same. By having the ability to color in these products, you can create any cool combination you wish could be available at the drugstore. So, what are you waiting for? Any makeup artist in the making will love these 10 free and fun makeup coloring pages.
And once they've lipsticked and lacquered to their heart's content, keep the artistry going with our dress coloring pages, umbrella coloring pages, aesthetic coloring pages, and trippy coloring pages.
Free Printable Makeup Coloring Pages
Makeup Page No. 1
This makeup page really has everything, from mascara and nail polish to creams and brushes! What a dynamic little art project for anyone interested in learning more about makeup.
Makeup Page No. 2
Try to mix things up a bit if you're looking for more of an artistic challenge. Have the nail polish on the right separate a little bit if you want to work on your shading techniques. As for the mascara, feel free to make it a fun color, like lime green or bright blue.
Makeup Page No. 3
Eyeshadow palettes make for excellent beginner makeup — not to mention a no-brainer for people who love to change up their look day-to-day. For a dramatic page, try shading these in with a gray pencil. While makeup is great to color, it'll be a statement piece if you stick to just black, gray, and white.
Makeup Page No. 4
There's a lot of room for creativity with this makeup coloring page. Try to think up a personalized label for the hairspray. Parents can even make this more fun for young kids by branding the makeup with their names before giving it to them to add a little color. What mini makeup artist wouldn't love seeing their name on a brand of lipstick?
Makeup Page No. 5
This is yet another makeup coloring page that you can turn into a slightly more dramatic piece. Or, hey, you could go the opposite way with it by making the lipstick a bright shade of red that you've always wanted to try for yourself.
Makeup Page No. 6
This set of makeup tools might make you think about the first makeup that you, yourself, bought at CVS back in 7th grade. You might not have known how to use the tools, but you still had them — just in case.
Makeup Page No. 7
See those tiny flecks in some of these eyeshadows? That's probably glitter. And that means that it's a good time to break out your metallic pens and markers for a bold, shiny, confident palette. Create the palette you always dreamed about back in the day.
Makeup Page No. 8
Many of us carry a powder compact while out on the town. After all, you never know when you'll need a touch-up.
Makeup Page No. 9
More sparkles! This time around, try to use fluorescent colors. Maybe a bright yellow or orange that'll make anyone stand out. Think of it as the best of both of your favorite decades — the neon hues of the '80s and the glitter overload of the '90s (c'mon, you know you were guilty of it, too).
Makeup Page No. 10
There's a lot of room for improvisation on this makeup coloring page. Try to model these containers after actual products. On the left can be an incredible face cream, and on the right, you can create a hand lotion that'll make your palms feel silky smooth.
Click here to print all of the makeup coloring pages at once!
This article was originally published on