Mandy Moore Calls Out Journalist Who Wanted Her To Relive Trauma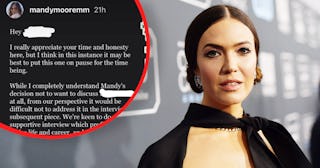 Matt Winkelmeyer/Getty and Mandy Moore/Instagram
Mandy Moore shut down an interviewer who refused to proceed unless she agreed to talk about past trauma and abuse she suffered
Since the #MeToo movement began, Mandy Moore has been one of its original and most outspoken members. She's been vulnerable, open, and brave, sharing her story with the world in the hopes that the trauma and abuse she's suffered from men won't happen to anyone else ever again. But that doesn't mean that the world is entitled to the details of her trauma. And she showed that — brilliantly — when she shut down an interviewer who tried to force her to put it on display once again.
In an Instagram story, Moore shared an email with an interviewer where they explain that unless Moore is willing to talk about her first husband (who we won't name here out of respect for her), they would not go forward with the interview.
The email says that the story will have to be put "on pause" because somehow, "it would be wrong" to run a story about Moore's career without including details about an abusive relationship she was in many years ago. "If Mandy doesn't want to talk about this though we have to respect that and it would be wrong for us to proceed with the interview," they wrote.
Moore posted a screenshot of the email (with names redacted, of course) alongside her own public statement explaining why it's so violating for a reporter to act like they (and the world) are entitled to access to the most traumatic parts of her life on demand.
"This is from a publication who reached out eager to do a comprehensive piece on my life and career," she wrote. "When they were told that I had spoken plenty about a certain subject in my life and would have no further comment (truly there are countless interviews they could pull from, that story is over and there's nothing more to say) this was the response we got back."
Moore went on to say the email was "so out of touch with the cultural discussion around abusive relationships."
"The refusal to interview someone unless they agree to relive that trauma publicly? No thank you. I am about to give birth any second and I'm not afraid to draw healthy boundaries. Bye," she wrote.
Moore is absolutely right. It's up to her when she should share or relive trauma and if that means never discussing it again, that is entirely up to her and only her. Nobody — and especially no journalist — gets to dictate that for her.
This article was originally published on