Mark Ruffalo's Kids Crash His Golden Globes Speech & It's So Wholesome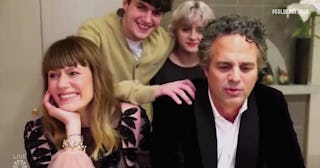 NBC/Youtube
The shoulder squeeze from his son was simply too much
There were some memorable moments at the Golden Globes last night but it was one little exchange Mark Ruffalo had with his kids during the broadcast that will warm the cockles of your cold, cold heart.
It was the first Golden Globes win for the actor for his role playing identical twins in I Know This Much Is True. When he accepted the award, he sat next to his wife, Sunrise Coigney, and two of his kids spontaneously jumped into the shot once he was announced the winner and it was all sorts of adorable.
His kids could be seen dancing and hugging their parents and at one point after he talked about his family living with the work he brings home, saying, "[They] let me go off and bring these crazy people home and they have to live with [them] all these years. Thank you, guys," his son leans over and squeezes his shoulder. It was the sweetest moment of the night by far.
The Avengers star, who shares Keen, 19, Bella, 15, and Odette, 13, with Coigney said during his acceptance speech that filming the HBO miniseries gave him the chance to explore "common humanity," which "connects us greater than what keeps us apart." In his show, he played identical twin brothers Dominick and Thomas Birdsey, the latter of whom suffers from paranoid schizophrenia. His brother, Dominick, fights to free his brother from a hospital for people with mental illnesses.
In his speech, Ruffalo was passionate about the planet and our part in helping to save it. "We have a dying mother just like the mother in our story. She is Mother Earth. And we must come to balance with her and honor her. And she will heal too. Let's be courageous together, guys, let's turn the page on the cruel past of this nation. The good news is inclusion and justice and care for Mother Earth is breaking out everywhere. The godly light of decency is breaking through the hideous dark storm we have been living through," he said. "We are the ones we have been waiting for, so let's do this now. I love you."
He later took to Twitter to thank fans and the Hollywood Foreign Press Association for the honor, and "for seeing I Know This Much Is True early, and keeping it in your hearts and minds all this time. I am humbled by this acknowledgment. "
When the 13 Going on 30 star's kids were younger, they also thought that their dad was pretty "cool," he told Us Weekly in 2019. The teens will "maybe" follow in his acting footsteps, the Emmy winner added at the time. "There's some interest. We'll see."
We'd definitely like to see more of his family if that's what they decide to do.
This article was originally published on