Martha Stewart And Snoop Dogg Are Co-Hosting The Puppy Bowl This Year
by Kristine Cannon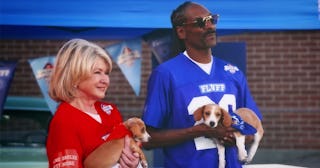 ANIMAL PLANET/Facebook
Can they co-host every year?
Everyone's favorite duo, lifestyle guru Martha Stewart and rapper Snoop Dogg, are taking on a new gig together: They're hosting the Puppy Bowl ahead of the Super Bowl this year.
According to Deadline, the unexpected pals will throw a tailgate party for the annual puppy showdown. In true Stewart fashion, the tailgate party will feature activities such as making the perfect party snacks and the best Puppy Bowl-themed cocktails. They'll also root on the pups representing Annenberg Pet Space, Paw Works and SPCA LA.
"It's a Puppy Bowl party hosted by me and my girl Martha Stewart," Snoop says. "We'll be serving up our favorite drinks—"
"—and our favorite bites," Stewart finished.
"So sit back and relax," Snoop added.
Stewart and Snoop's tailgate party will air ahead of the three-hour special on Discovery+ and Animal Planet on Feb. 7 at 2 p.m. ET.
The duo will sport their own Puppy Bowl gear during the tailgate party, too, with Stewart in an orange jersey representing Team Ruff and Snoop in a blue jersey representing Team Fluff.
Plus, both of their own pups will be in attendance for the TV special. Stewart has four dogs: two French bulldogs, Crème Brûlée and Bête Noire (because, of course); and two Chow Chows, Empress Qin and Emperor Han.
Get this, Snoop also has two French bulldogs, Juelz Broadus and Chalk, and, yep, they have their own Instagram pages.
Stewart and Snoop are far from the only celebs taking part in the Puppy Bowl this year. Kristen Bell, Valerie Bertinelli, and more will also make special appearances as 70 adoptable puppy players from 22 shelters and rescues from non Northeastern states go "paw to paw to win the CHEWY 'Lombarky' trophy."
"Puppy Bowl celebrates adoptable pups in all their cuteness and showcases the incredible shelters and rescues, as well as their staffers, who dedicate their lives to helping animals find their loving homes," a Puppy Bowl press release states.
According to the release, the Puppy Bowl is "16 for 16" with the adoption rate at 100 percent, meaning all puppies and kittens featured in the annual TV special to date have found their forever homes with loving families.
"And even though this past year has been different from year's past, one thing is for certain — there will be a PUPPY BOWL — and Discovery+ and Animal Planet continue this annual tradition to highlight these special puppy players and kittens so that they can finally find the place they are meant to call 'home,'" the release states.
The Puppy Bowl XVII will also stream on Discovery+. The Super Bowl LV will air the same day on CBS, with kickoff at 6:30 p.m. ET.