Matthew McConaughey Helped Jennifer Garner Find Time To Pump On Film Set
by Leah Groth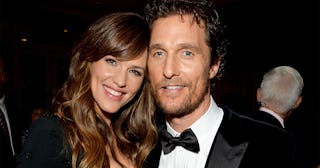 Lester Cohen/WireImage/Getty
Jennifer Garner reveals that Matthew McConaughey talked her out of walking away from her role in "Dallas Buyers Club"
Returning to work after having a baby is no easy feat. Aside from having to leave your newborn baby at home, nursing mothers have the added stress of having to pump milk every few hours, which can be difficult during the work day. Following the birth of her third child in 2013, actress Jennifer Garner was offered a role in the film Dallas Buyers Club, starring alongside Matthew McConaughey, and she couldn't turn it down.
However, after filming began, she struggled with juggling the physical demands of early motherhood with the superhuman expectations of a top Hollywood actress on the set of a major movie, and seriously considered exiting from the project as a result. However, in a new interview, Garner reveals that McConaughey talked her into staying by prioritizing her needs — and the story will make moms everywhere swoon.
During an interview with Tell Me More with Kelly Corrigan, Garner revealed that she accepted the role in the film after taking somewhat of a career hiatus to focus on her family with then-husband Ben Affleck. She explained that she was offered the role shortly after her son was born, which her agent urged her to accept because she had "taken so much time" away from work.
"So I took it, and that was why" she said. "Because it was time for me to go back to work."
However, Garner was still nursing her baby boy at the time, and shooting made it extremely difficult to duck out and pump milk, because "there was never a 10-minute break."
And, any mother who has ever been forced to prolong a pumping session has felt the pain of engorged breasts. "My boobs were freaking out," she continued. "It was bedtime, and we were doing some scene that was supposed to be light, and I started crying and I was like, 'I have to quit. I have to go home and be with my kids. I just can't do this anymore.'"
However, a devoted dad himself, her costar recognized that she wasn't okay.
"And sweet Matthew McConaughey pulled me aside and said, 'What is going on with you?'" she recalled. He then asked the crew to take a break from filming so that Garner could pump in private.
"And from then on, whenever I needed to, I would give him a high sign and I would go take care of it," she said. "He said, 'You can do both. You've got it. You can do it.'"
Garner gushed over the way he handled the situation. "How much do I love that guy? I know, a lot," she added.