Just Try Not To Eat A Dozen Of Disney's Shimmery Unicorn Cupcakes In One Sitting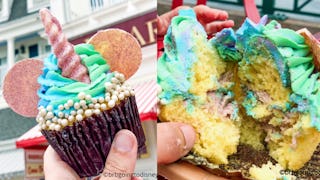 Image via Disney Food Blog
Move over, all other Disney cupcakes — these unicorn treats are a must-have
Disney World, the aptly named Most Magical Place on Earth, has somehow just managed to become even more magical. Now, in addition to all the delicious foods already offered in the parks, you can get iridescent Disney cupcakes. Oh, and they're dressed up like unicorns. Yes, excuse me while I place my order for one dozen immediately.
RELATED: Free, Downloadable Unicorn Coloring Pages For Your Uni-Obsessed Kiddos
The sweet treats are a little bit of a shift from the rose gold noms that have been taking over Disney parks lately. But they're no less beautiful. Seriously, look at them.
Yep, that's a cupcake with iridescent icing, pearl sprinkles, a white chocolate unicorn horn and sparkly Mickey ears. Are you drooling yet? Because I am.
Those babies are available at Disney World's Boardwalk Bakery. According to Disney Food Blog, they're lemon flavored and filled with raspberry cream. Yes, please.
Oh, and Boardwalk Bakery is known for switching out its featured treats pretty often, so get a move on if you want to nab one of these while they're still available.
If, for some reason, these aren't your style, you can still get the rose gold treats we've all been collectively drooling over since those we introduced back in January.
Or, if sweet treats aren't your thing, Disney still has plenty of options for you to get your fix of this very trendy shade (while still showing off your Disney love), like a very grown up rose gold jewelry collection.
Honestly, Disney is always right on trend with its new offerings, and that's part of why we love that place so damn much. So round up the whole family and start planning your next Disney trip. Just make sure that amid all your magical Disney snacking, you save plenty of room for dessert.
This article was originally published on