Mindy Kaling Explains Why She Won't Share Photos Of Her Children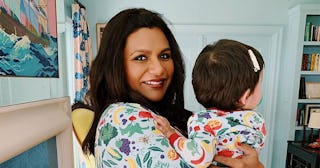 Mindy Kaling/Instagram
Mindy Kaling revealed why she won't share photos of her children on social media, explaining that she'll wait until they can consent
Ever since welcoming her daughter Katherine back in 2017, Mindy Kaling has been open about her experience as a mom. Now, she's a mama to Katherine and her son, Spencer, whom she welcomed last year, and while she clearly loves talking about life with her two little ones, she won't share photos of their faces on her social media accounts.
In an interview with People about her Amazon Handmade holiday collection, Kaling explained why she's keeping their faces off social media for the time being. She notes that while she doesn't judge other famous parents for choosing to share photos, she prefers to wait until her kids can consent to their image being shared publicly before she does so herself.
"I have no judgment for people in the public eye who share photos and videos of their children," she said. "My sense is that [my kids] have no real consent right now to do that. … I feel like I might as well wait until they get old enough so they can tell me if they want to be part of my social media or not."
"Sometimes it's just a safety thing. I don't want to be at the airport and have someone be like, 'Spencer, Katherine,' and have them look to the people as though they know them or they're friends. I think that could be really confusing as a kid," she continued. "So that's the reason I'm doing it, but it's hard because they're such a huge part of my life. And I'm like any parent where I'm proud of the things they do. I think they're so cute, and of course, I want other people to see it!"
Her concerns and hesitations are absolutely valid, and it makes sense why any parent would feel protective over the digital presence of their young children — especially for kids of parents who are in the public eye, like Kaling is.
The Office alum joins the ranks of other celebrities who have been open about not sharing photos of their kids online, including Blake Lively and Ryan Reynolds, Sophie Turner and Joe Jonas, Gigi Hadid and Zayn Malik, Kristen Bell and Dax Shepard, Eva Mendes and Ryan Gosling, Kerry Washington and Nnamdi Asomugha, Mila Kunis and Ashton Kutcher, Adele, Cameron Diaz and Benji Madden, Emily Blunt and John Krasinski… as you can see, the list is pretty much endless, and given the invasive and rabid nature of paparazzi, fan culture, and social media, we absolutely can't blame any parent — famous or not — for protecting their children by any means necessary. Bravo, Mindy!
This article was originally published on