Here's Where You Can Get The Hottest 'Mom Gear'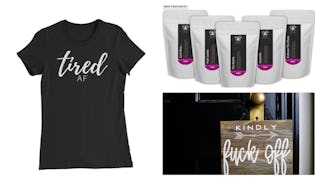 MOMSBEHAVINGBADLY.COM (left) / MAMAJAVACOFFEE.COM (top right) / PLENTYOFYELLOW.COM (bottom right)
Who doesn't love some good retail therapy around the holidays, am I right? Especially when we get our shop on while supporting amazing women-owned shops. Throw in some sassy slogans and funky designs, and everyone wins.
If you're looking for some chic and unique gifts for the mom in your life — whether it's your own mom, a sister, or a friend — here are some of our favorite finds from badass boutiques.
No, it's not. Which is why we love this tote by Moms Behaving Badly to hold all of our groceries.
"As fuck" is our favorite form of measurement. And there's just no other way to describe the level of exhaustion we feel every damn day. Toss on this slim-fit T-shirt from Moms Behaving Badly and let everyone at school drop-off know to steer clear.
With names like #momlife and Embrace the Chaos, we know this assortment of coffee from Mama Java Coffee get us.
Yes, we do. Provided we have our coffee. And this mug also from Mama Java Coffee is a great reminder.
This sign from Plenty Of Yellow is the perfect thing to hang on the door when you put your child down for a nap or need some alone time in your room.
And if you want to share the same sentiment in a friendlier tone, their "I wish you wouldn't sign" is perfect. Or you can simply carry it around with you all day and pull it out whenever someone pisses you off.
If you're looking for something a little more on the dainty side than the feisty side, the Shop for Mama has the sweetest necklaces in her collection.
Mama bears unite with this mug from Shop for Mama. Because sometimes it really doesn't feel like we're dealing with wild animals, and we all could use a reminder that we're doing an amazing job at momming each and every day.
We all need some aromatherapy in our life, and these sprays by Frankie & Myrrh work wonders if you need to calm the fuck down.
These little rollies also by Frankie & Myrrh make the perfect gift and are easy to throw in your purse to bust out in case you need an emergency aromatherapy session.
This precious T-shirt from Wee Structured is a must-have for all the littles in your life. I can't handle the cuteness.
This baseball T-shirt, also from Wee Structured, is a great gift for you and the favorite mom in your life.
Well, what are you waiting for? Let the shopping begin!
This article was originally published on