These Are The Most Expensive Things In The World, For Those Who Need To Know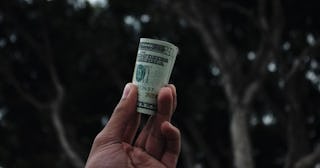 Vitaly Taranov/Unsplash
Still trying to decide what to spend your stimulus money on? Girl, that money won't buy any of these things. That money won't even buy a 1/8,000th of the very "cheapest" thing on this list. However, it never hurts to look, right? Ya know, in case you want a "win the lottery wish" list.
These bold statements of wealth all deserve to be (and are) one someone's list. For us, they're just fun to peruse. While there are auctions every day and things certainly change, these are some the most expensive items in the world. Surprise, surprise — a lot of the listings are for art. Take that, aunt who thought art school was a waste of money! Rattle this list off during your next family game night to really impress the crowd.
15. Graff Diamonds Hallucination watch, $55 million
We'll say it. This thing is gaudy looking. Still. If you want a super expensive, colorful, diamond-covered watch, this thing is your jam.
https://www.instagram.com/p/2L3EtLSQfj/?utm_source=ig_web_button_share_sheet
14. 1963 Ferrari 250 GTO, $70 million
This Ferrari won a Tour De France before being bought for $70 million by the founder/CEO of WeatherTech, David MacNeil. The car is believed to be the most expensive in the world and it's not the only impressive car in MacNeil's collection. It's rumored that his fleet of fancy cars would give Jay Leno a run for his money. Boys and their cars.
13. Pink Star diamond, $72 million
As mega diamonds go, this one is actually pretty young — it was mined in 1999. It weighed about 132 carats upon being mined in rough condition. Now cut and polished, the diamond has lost over half it's weight. It's impressive nonetheless, weighing in at 59.6 carats.
12. Wittelsbach-Graff diamond, $80 million
When this blue diamond was purchased, it actually weighed 35 carats, but the owner had it trimmed to removed imperfections. It now weighs 31 carats. Still massive, right? Believe it or not, there are actually people in the diamond community who are mad about the changes.
11. Garçon à La Pipe (painting), $104 million
This gorgeous piece is from Picasso's rose period and was painted when he was about 24 years old. Picasso never said much about who the boy in the painting was, but there's quite a bit of speculation. Did he not really know him… or was he protecting his identity?
10. 'The Card Players' (painting), $260-275 million
This painting is from one of Paul Cézanne's final series of paintings, thus making it especially important. There's actually a bit of debate about who bought it last and for how much. However, even at the low ball price named in rumors, it was still once the highest valued painting in the world.
9. Alberto Giacometti's L'Homme Au Doigt sculpture, $141.3 million
There are actually a few casts of this Giacometti sculpture scattered across the world in museums and private collections. This current iteration, however, is supposed to be hand-painted by Giacometti in an effort to make it more unique and valuable.
8. Willem de Kooning's "Interchange," $300 million
This painting also once held the title of the world's most valuable painting. Kooning painted this in 1955, soon after he changed styles, making it his first abstract landscape. It's actually quite gigantic at 79″ x 69″.
7. The Great Star of Africa I/Cullinan Diamond, $400 million
If you want to get a closer look at this 3,106 carat diamond, you're going to need to raid The Queen's private collection. The stone is used at the top of the Sovereign's Sceptre with Cross.
6. Leonardo da Vinci's Salvator Mundi, $450 million
Owned by Saudi Prince Bader bin Abdullah bin Mohammed bin Farhan al-Saud, the painting was stolen soon after he purchased it in 2017 and hasn't seen the light of day since.
5. Villa Leopolda, $506 million
During the second World War, Villa Leopolda was so large that they actually used it as a hospital. It's much too glorious to stay a hospital, though. The historic mansion looks straight out of a scene from a movie… except somehow even more beautiful.
4. Eclipse (533 feet long), $1.5 billion
It's a tie, actually.. Buckingham Palace is also worth $1.5 billion
3. Antilia, Mumbai, $2 billion
Antilia is the most expensive dwelling in the world. The richest man in India built this 400,000 square foot home to be earthquake safe and luxurious to the max. Aside from the usual things, like bedrooms and bathrooms, the building as a two-story home gym, a movie theater, more than 100 parking spots and lots of outdoor space.
2. History Supreme Yacht, $4.5 billion
This world famous yacht is the sleekest and most decadent thing you can imagine. The outside is trimmed with some 100,000 kg worth of gold, platinum and jewels. It spares no expense on the inside, either. The master suit has a wall featuring a sculpture made of T-Rex bones. Can we say, excessive?
1. Koh-i-Noor Diamond, over $1 billion
The fabled "cursed" Koh-i-Noor diamond was mined in India thousands of years ago until it finally ended up in British hands during the 1800s, when the British Empire was a controversial and often violent colonial power in India. The diamond was worn by Queen Victoria as a brooch before finally ending up in the Queen's crown, where it still rests now. To this day it is a point of contention for Indians who feel the diamond, among other treasures, were looted by the British.
The Most Expensive Thing On Amazon
Wanna really flex? The most expensive thing on Amazon is a painting by Abiah Avila called "Blossom Dance." It's listed for $10,000,000 and is believe to have been posted by Avila themselves. Imagine having that delivered by one of those blue Prime sprinter vans. What a laugh!
Another ridiculously priced Amazon item in 2020 was the original movie poster for 1931's Dracula. The poster came in at a whopping. $1,250,000.
If movie posters are not your thing, you can also drop a cool $90,050 on a Lladro chandelier of dozens of porcelain fairies.
If you like to wear your shiny baubles around your neck, why not invest a cool $$265,781.25 on a nearly 20 carat white and yellow diamond flower necklace from Milano Jewelers. Oh, but don't worry, shipping is free.
This article was originally published on