Peak And You Shall Find! 11 Mountain Coloring Pages For Adventurers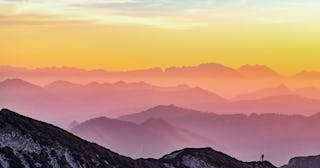 Simon Berger/Pexels
The mountains are calling, and I must go! Who doesn't feel the call of the wild sometimes? Unfortunately, a mountain adventure isn't always readily available. Don't fret, though — the next time you're feeling the pull of nature, just pull out our scenic collection of mountain coloring pages! They may not get your heart rate up the same way climbing the Matterhorn would, but they make for a fantastic DIY activity you can do from the comfort of home. Plus, coloring offers so many benefits to people young and old. For adults who color, it's a proven stress reliever. For kids, coloring activities help them learn skills they'll need for school: focus, hand-eye coordination, and patience, for instance. So even if they're just coloring flowers or doing veggie coloring pages, it's still a chance to learn and practice. And if they're craving the outdoors on a rainy day? Nature-inspired coloring pages are the way to go.
Naturalist and writer John Muir once said about mountains, "How glorious a greeting the sun gives the mountains!" If you're here, you no doubt know what he's talking about. That golden morning glow of the sun peeking over a mountain summit is genuinely spectacular. Whether you have the chance to witness it from a spot atop a mountain or simply from afar, the view is nothing short of uplifting. The mix of light and color is a gift from nature you just can't ignore.
Well, these coloring pages are your chance to try to recreate that magic moment… ten times over! And once your little adventurer summits these free printables, trek over to our jungle coloring pages, beach coloring pages, forest coloring pages, and volcano coloring pages.
Free Printable Mountain Coloring Pages
Mountain Page No. 1
Ever wonder what the scientific difference is between hills and mountains? The obvious answer is "size." But how big must a geographical form be to constitute it as a mountain? It seems most scientists agree that mountains should be at least 300 meters above the area surrounding the mountain or range.
Mountain Page No. 2
You probably already know that Mt. Everest is Earth's tallest mountain. But did you know that's not the mountain's "real name"? The mountain is located between Nepal and Tibet, and initially, each country had its own name for it. The Tibetan people called it Chomolungma, meaning "mother goddess of the world." The mountain's Nepali name was Sagarmatha. When neither of those names suited the scientists who surveyed and studied the mountain, they renamed it after a surveyor named George Everest. Hmm, remind you of any other mountain closer to home?
Mountain Page No. 3
This coloring page perfectly captures how mountains coexist with other natural elements to form one gigantic classroom. John Lubbock said it best when he said, "Earth and sky, woods and fields, lakes and rivers, the mountain and the sea, are excellent schoolmasters, and teach some of us more than what we could learn from books."
Mountain Page No. 4
Are you looking for another inspirational mountain quote? We like this one from Paulo Coelho: "The way up to the top of the mountain is always longer than you think. Don't fool yourself; the moment will arrive when what seemed so near is still very far." If you're a literal thinker, you're probably curious how long it actually takes to get to the top of the mountain, though. Well, most expeditions to Everest take around two months.
Mountain Page No. 5
There are five main mountain types: fold, plateau, fault-block, volcanic, and dome. The names of these mountains describe both their physical attributes and how the mountains formed. There are also buttes, plateaux, and mesas, which are even more ways geographers describe a mountain's (or hill's) appearance.
Mountain Page No. 6
Few things can make you feel more alive than mountain hiking. John Muir once described that invigorated feeling, saying, "We are now in the mountains and they are in us, kindling enthusiasm, making every nerve quiver, filling every pore and cell of us." And can you guess the origins of Mount Kilimanjaro's name? It's actually a combination of Swahili and Chagga. "Kilima" means mountain, and "njaro" means whiteness. What a name!
Mountain Page No. 7
Another great option when you can't take a trip into the mountains is to read about mountains — a pastime that opens your eyes to the wonder of these natural formations. In the words of Haruki Murakami, "Mountains, according to the angle of view, the season, the time of day, the beholder's frame of mind, or any one thing, can effectively change their appearance. Thus, it is essential to recognize that we can never know more than one side, one small aspect of a mountain."
Mountain Page No. 8
It's difficult to think of mountains without imagining forests too, right? That makes sense, given that mountains boast a wide variety of flora and fauna. What you may not know, though, is that nothing grows above a mountain's snow line. That region can effectively be considered a desert.
Mountain Page No. 9
If you really want to feel on top of the world, a trek through Rocky Mountain National Park may be in order. One of North America's highest national parks, it features elevations ranging from 7,860 feet to 14,259 feet. In fact, there are 77 mountains in the park's boundaries that peg out at over 12,000 feet high! Plus, you'd be in good company — Rocky Mountain National Park receives roughly 4.6 million visitors per year.
Mountain Page No. 10
Not everyone has renamed (and white-washed) their mountains and geographic history. For example, there exists a mountain in New Zealand called "Taumatawhakatangihangakoauauotamateapokaiwhenuakitanatahu." That's the world's longest mountain name, in case you were curious. When translated to English, it means "the place where Tmatea, the man with the big knees, who slid, climbed, and swallowed mountains, known as — landeater — played his nose flute to his loved one."
Mountain Page No. 11
This campsite would look even more beautiful once your little one colors it in! Did you know the best way to keep matches dry is to put them in a mason jar? You can also stop your toilet paper from getting dirty or wet by putting it inside a coffee container. And here's another camping hack: Do you need more light in your tent? Strap your headlamp or any white fluorescent light to a milk jug filled with water. It will fill your tent with a glowing luminescence.
Click here to print all of the mountain coloring pages at once!
This article was originally published on