'My So-Called Life' And 'Felicity' Are Coming To Hulu And Yessssssss!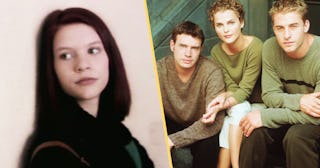 ABC/Getty
Clear your calendar and put the kids to bed – the hit shows will come to the streaming network in March
The 90s, man. Melanie Griffith was known as being more than Dakota's mother. Janet Jackson had yet to meet Justin Timberlake. You know that looking a former bestie in the eye while saying, "you're a virgin who can't drive" means you have burned all bridges between the two of you. And you probably watched My So-Called Life and Felicity – if you remembered to set your VCR.
The two popular series are set to arrive on Hulu in preparation for the 90s documentary Kid 90, with each series a component of the popular streaming service's "90's Week".
Remember Felicity? The show centered around Felicity Porter's (Keri Russell) college years at a fictional university in New York. The angst! The drama! That hair!
Remember when Felicity cut her hair and the ratings tanked? That was a thing. The series aired for four seasons, from 1998 to 2002, all of which will stream on Hulu.
We can't forget about Blossom and her fun outfits – Mayim Bialik starred in a show about the adventures of a teenage girl, Blossom ( Bialik), and her family. And her best friend, Six. Which, by the way, Six is the best name ever and it's not even a question.
Here's Blossom and Six rapping the Fresh Prince Of Bel Air's theme song.
The show aired for five seasons, 1990-1995, all of which will be available on Hulu.
My So-Called Life only lasted a season during the 1994-1995 broadcast year, but it quickly reached cult status and remains a fave of people of a certain age. The series featured Angela Chase (Claire Danes) and her friends at a high school in suburban Pittsburgh.
Check out the trailer for MSCL's DVD release. LOL… DVDs.
And whoooo boy, did Angela have the typical teenage relationship with her mother.
Jared Leto (before he went all Method actor) played Angela's love interest, Jordan Catalano, and Wilson Cruz portrayed Rickie Vasquez, an openly gay teen who was truly a revolutionary for the time as an LGBTQ character on network TV.
In an interview with People, Cruz remembered a particularly moving episode.
"I watched the episode 'Betrayal' and I ended up in a ball of my own tears," Cruz told the mag. "There's a moment at the end of that episode, where Rickie, after Angela has flirted openly with the boy that he clearly has a crush on, comes to him for advice. And after he gives her the advice, he then chooses to stand up for himself and say to her, 'Hey, that thing that you just did hurt my feelings.'"
The tentpole of the promotional programming is Kid 90, an upcoming special that gives viewers a peek at '90s stars in the '90s. The documentary includes Soleil Moon Frey's personal videos as well as actors like David Arquette, Mark-Paul Gosselaar, and Brian Austin Green.
This article was originally published on