National Sex Toy Day Is Coming (No Pun Intended!)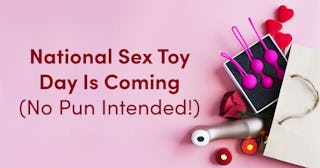 Scary Mommy and Laia Divols Escude/EyeEm/Getty
The chill of fall is in the air, the holidays are approaching, and all I want to do is splash everything with glitter and eat cookie dough. I love the holidays, and I love this time of year when the temperatures dip and wearing beanies and slippers everywhere is acceptable.
And because it's fun to stay in and snuggle under a blanket, it makes sense that National Sex Toy Day will be here on November 4th. Someone planned that right — in between watching scary movies and stuffing your face with turkey sounds like the perfect time to honor those battery-operated lovers that have gotten you through some horny times.
But honestly, I'd celebrate it regardless of what day of the year it fell on.
I mean, even if you don't like the fall and winter months, you can't deny you want to dip into your tickle trunk, or order your first vibe in order to celebrate properly.
Am I right or am I right?
We want to honor our buzz buddies properly, so we've set out to do some research of our own to let you know which toys get the standing "O."
Scary Mommy interviewed SKYN Condoms Sex & Intimacy Expert, certified sex coach, sexologist, and author Gigi Engle via email, who told us that if you are new to sex toys and ready to give them a go, "You'll probably want to start with something small and non-threatening."
A great option for this is a finger vibrator or a "pocket rocket."
This tiny number is the way to go if you are a newbie. It's small, quiet, and gentle.
The Doc Johnson is the original, best-selling pocket rocket. It's under $30 and targets the clitoris. The smaller size makes it easy for you to store and take with you while traveling … even if it's just to your closet to get some peace.
After you've given those a twirl, you may be ready for a wand or the Satisfyer Pro 2 (please get this, I demand it) which mimics oral sex and was rated one of the top sex toys in 2019.
A fantastic wand to try out is this Wand-er Woman (they also make one for people with a penis).
Before you break out a clit stick though, it's important to get your hands on one important ingredient — the proper lubrication. Engle reminds us how sensitive our clitoris really is: "The glans clitoris has 8,000 of the full clitoris' 15,000 total nerve endings — all packed into that lil' nubbin. For some clit-owners, it is too sensitive to touch straight on right away."
So remember, if you are a newbie and really excited to get it on with your tumbleweed tangler for the first time, take it slow — don't go right for your pearl.
Engle says the best buffer is to start with the clitoral hood. "Whenever giving clients guidance on ways to deal with a sensitive clitoris, I always recommend starting with the hood as a buffer. The hood is like the person who protects the quarterback on the football field. If you've noticed sensitivity with your clitoris, always try indirect stimulation along with a lot of lube. This helps to get you to orgasm without any discomfort."
Our pick in the lube department: Romp by Larklove. Romp is made with all natural ingredients that mimic your own moisture. I'll be the first to raise my hand and tell you, I've been through three bottles in the past year. There's no comparison. You simply cannot be putting cheap, unnatural, or harmful ingredients up inside your body. Do not — I repeat, do not — skimp on the sauce when it comes to your taco, OK?
For the record, you don't have to spend a lot on toys either. (My favorite one costs under $20.)
In fact, I think if you are just getting into the vibe game, it's best not to get overwhelmed and pick out one non-intimidating toy first to see how you like it. You can always upgrade and grow your collection later.
If you are a master at buzzing one off and want to get your partner involved in the excitement, Engle says you need to get educated together. "The thing is, sex toys are TOYS FOR SEX. They are TOOLS we can use to make sex better for everyone," she says.
A good way to ease your partner into it, according to Engle, is to start by having them watch you use a vibe on yourself. "This can be a huge turn on. Seeing how you make yourself orgasm could be just the push your partner needs to get on board."
So break out the sex toys (or the credit card, and order one) and let the celebration begin. Because whether you are solo this year, have wanted to spread the sex toy love with your partner, or haven't taken a snatch-blaster out for a while, National Sex Toy Day is the perfect excuse.
This article was originally published on