Naya Rivera's Dad Puts 'Glee' Creator On Blast For 'Breaking His Promise'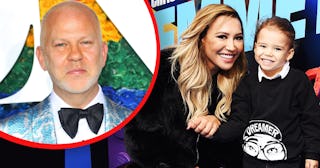 Bruce Glikas/Gregg DeGuire/Getty
George Rivera posted several tweets accusing Ryan Murphy of not keeping his promise to Naya Rivera's son
After the tragic death of Glee star Naya Rivera last summer, the show's creator Ryan Murphy promised to set up a college fund for her young son, Josey. Now, several months later, Naya's father George is publicly putting Murphy on blast for not living up to that promise.
Rivera posted several tweets on Tuesday claiming that Murphy hasn't reached out to his family and that he hasn't followed up on his commitment to providing a college fund for Josey — Naya's son, who was present at the time of his mother's accidental drowning.
Rivera responded to a fan's tweet from last summer about Murphy's joint statement with fellow Glee creators Brad Falchuk and Ian Brennan on Naya's death: "Everyone needs to know what Ryan Murphy really did … or didn't do !!! I'm about to blow up this story …. and make sure he's knows that I know …."
In another tweet on Tuesday, Rivera called out the famous show creator for putting on a public front but not keeping his word behind the scenes.
"When you are part of the Hollywood elite, some people treat others as they are 'less than' …. vocalize a good game , but it's as shallow as the sets on stage , that they create. Promises made in public, only to fade with time and excuses …. even in a unexplainable tragedy …"
"Broken Promises….. fake outrage …. hollow gestures ….. no phone call," Rivera wrote. When another fan specifically asked if they ever opened the trust fund for Josey, Rivera responded "Hahaaaa."
After Rivera's public call-out began gaining lots of attention online, Murphy himself responded to the claims, though not to the grieving father directly. "Myself, Brad Falchuk, and Ian Brennan have committed to create a college fund for Naya Rivera's child Josey through the Naya Rivera Estate Trust. We have been in repeated conversations with the appropriate executors of her estate."
Police say Naya Rivera drowned after exhausting the last of her energy saving her 4-year-old son by pushing him back onto the pontoon boat they rented for a fun day of swimming on Lake Piru, north of L.A. Immediately following her death, the actor and mom's friends, family, and former co-stars shared an outpouring of love and support. This led Glee creators to announce they were starting a college fund for Josey.
"Naya wasn't a series regular when we cast her on Glee," the statement read. "She didn't have more than a few lines in the pilot. But it didn't take more than an episode or two for us to realize that we had lucked into finding one of the most talented, special stars we would ever have the pleasure of working with."
It continued, "Our hearts go out to her family, especially her mom, Yolanda, who was a big part of the Glee family, and her son Josey. The three of us are currently in the process of creating a college fund for the beautiful son Naya loved most of all."
Here's hoping they do indeed reach out to the grieving Rivera family to keep them in the loop on this promise.