If You Are A Divorced Mom, Do This ASAFP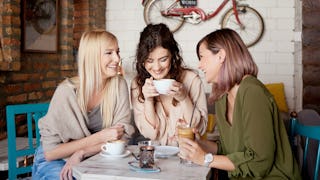 Tamara Dragovic: Getty
Last Saturday evening, I was feeling down after dropping off my kids with their dad. But turns out, I ended up having an incredibly therapeutic night, all because a fellow divorced mom sent me a text inviting me over for pizza and a rom-com movie marathon.
I happily went over in my pajamas, and another divorced mom joined us (we are totally starting a club). We stuffed ourselves with pizza, popcorn, and whoopie pies as we edited each other's dating profiles and compared our dating lives.
After spending hours talking with two divorced women who are also dating, co-parenting, working full-time, and feeling all the things I am feeling on a daily basis, I felt empowered and refreshed. There is so much comfort in knowing you aren't alone in this world, trying to navigate your way into a new life that still feels like an open wound that keeps getting poked.
That wasn't the first time we saved each other from falling into the self-pity pit that divorce leaves in its wake.
It also wasn't the first time we've cancelled dates with potential partners to spend time with each other because we needed the companionship we offer each other more than dinner and drinks with a man. And it definitely was not the first time I've been so thankful for my divorced mom friends.
They have been the steady for me when I feel shaky because they have felt the same way so many times over.
They have been there to set me straight when I'm wallowing in my own sad story, and remind me going to dinner or shopping together will be the perfect cure.
They have been around when everyone else is busy tending to their families who are very much still together, enjoying movie or game nights.
They have helped me pick out the best pictures for my dating profile and are the ones I count on for outfit approval before a first date.
If you are a divorced mom, the first thing you need to do is get yourself another divorced mom friend. Yes, you will have family and friends who have known you for decades and will help you wade your way through this lingering smog that makes you feel like no matter where you go, it's right behind, reminding you of what's become of your life.
But another divorced mom? No one — and I mean, no one — will get it like she will.
When you talk about being scared about your future and tackling home projects on your own, she hears you.
She will understand your need for affection and companionship even if you are getting it from "Mr. Good Enough For Right Now."
She knows you can't "just keep yourself busy" and "learn to be alone" because when you are partnered with someone for a long time, and then you aren't, one week can feel like 20.
And she will know, like no one else, when you tell her you need her because she needs you in all the same ways, and damn, it feels good to be able to give to another person the very thing they are giving to you.
Maybe all my divorced friends and I will be married again someday and we won't hang out in our pajamas on a Saturday night, or talk on the phone about our dates, or remind each other that we are capable of doing this shit on our own.
But for now, we have the luxury of having one another in our lives and there is no way I'd be able to get through this without them.
This article was originally published on