The Needle-Free Hyaluron Pens Making The Rounds On TikTok Are Dangerous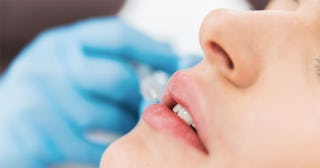 RobertoDavid/Getty
Full disclosure: I get lip fillers. I love them. I started getting them a year ago after a friend of mine got hers done and they looked amazing. I also think if you want to get something done to your face, hair, or your body you should go ahead and do it because it's your right.
However, you need to get certain things done by professionals — and I'm here to tell you that lip fillers are one of them.
First, when I get my lips done, I go to an RN-BSN who has been in business for a long time and who I trust. She knows her shit and will tell me when enough is enough. In fact, the last time I went to see her to get some botox, I told her I wanted to get some filler in my lower face and she told me no.
Then, she stood back and reassured me that it's her job to look at my face as a whole and decide where the best place to put filler and botox are according to my goals.
She could have said okay and taken my money. She also could have put filler in my daughter's lips (she's sixteen) because she's asked her about it so many times — but again, she won't do it until my daughter is 21.
If that's not proof she cares about her clients, I don't know what is. She explained to me and my daughter that her face is going to change so much in the next few years, and it's not safe to put filler into her face until she's older.
This is the kind of person you want injecting things into your face.
So, when I see there's a hyaluron pen video going viral on Instagram and TikTok as a way to inject your own lip filler, I'm concerned. This is something teenage girls will see and want to get their hands on.
This is so dangerous for so many reasons. The hyaluron pen is a needle-free device that forces filler into your lips using pressure. Simply watching the video turns my stomach since the user isn't even opening her eyes and is in visible pain, but that's the least of the problems this device can cause.
Earlier this month, the FDA issued a statement warning everyone (including healthcare professionals) of the dangers of using these pens, also called derma fillers, saying, "Patients and healthcare providers should know that FDA has not approved any dermal fillers for over-the-counter sale for at-home use or for use with needle-free injection devices. These unapproved needle-free devices and fillers are often sold directly to customers online, bypassing consultation with a licensed health care provider, a critical safety measure for patients to make informed decisions about their personal health."
Yes, these pens are easy for anyone to get and you don't need a prescription, but according to the FDA, the side effects can be serious. There have been reports of "bleeding or bruising, infection with bacteria, fungus, or virus from the filler or needle-free device, transmission of disease between people who use the same needle-free device, blockage of a blood vessel, leading to tissue death (necrosis), blindness, or stroke, scarring, damage to eyes from the pressure of the needle-free device, formation of lumps in the skin."
And many of these side effects aren't reversible.
Scary Mommy spoke with Cara Rodgers, RN-BSN and Kelsey Audie FNP-C of Skin By Cara Medical Aesthetics, LLC, who put together a statement about these pens, "Hyaluron pens are in no way safe or harmless. In order to safely perform derma filler injections, a needle or cannula is required and it must be performed by a medical professional (MD, PA, RN, or NP) who has extensive training and knowledge of anatomy."
They went on to say, "Attempting to perform these needle-free injections at home is incredibly dangerous. It could result in anything from lumps and discoloration to occlusion of a blood vessel leading to tissue death, blindness, or stroke. For your own safety, leave medical procedures to medical professionals."
I get it: lip fillers and other fillers can look amazing and make us feel fresh. But that's only when they are done by a medical professional who knows what they are doing. That's probably not you, and it's definitely not your teen.
If you really want fillers, wait until you find someone who is qualified to do so and has credible references from people you know.
Fuller lips and getting rid of lines is a beautiful thing but they aren't worth getting an infection, losing your sight, or getting a stroke.
Don't forget to warn your teenage girls about this — it's going around on TikTok and Instagram like crazy, and it's so tempting for them to try. Even if you think your child wouldn't do something like this, that's not a good enough reason to not say anything and assume they know better.
Our teens live in a TikTok-driven world, and we need to be their constant voice of reason.