Netflix Halts 'Bridgerton' Filming Indefinitely After 2 Positive COVID Cases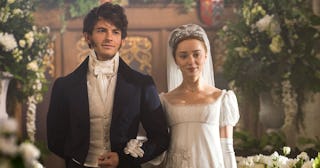 Netflix
The indefinite halt on production follows a 24-hour shutdown on Thursday
The filming of Bridgerton Season 2 was halted for a second time this week after a cast or crew member tested positive for COVID-19. The Netflix hit was previously put on a 24-hour pause on Thursday after a crew member tested positive for the virus. But not long after resuming production, a second member tested positive for the virus, resulting in Netflix halting production indefinitely as they work with Shondaland to determine how they'll safely return to set.
The second season of Bridgerton is currently in production overseas in the UK, where the Delta variant of coronavirus is currently surging. And while Netflix has declined to comment on whether a cast member or a crew member contracted the virus, Deadline reports that the indefinite pause on production could indicate that it was an actor. What is confirmed, however, is that the individual who tested positive is currently in isolation.
In the meantime, Netflix is working with Shondaland, a production company founded by TV writer and producer Shonda Rhimes, to create a timetable for filming to safely resume.
Per The Hollywood Reporter, Netflix has implemented stringent COVID safety protocols — protocols they intent to keep in place through 2022. They include frequent testing, ample PPE and carefully monitored sets.
"Everything that we are doing now with testing and PPE is probably going to remain through all of next year — not probably, it is going to remain through all of next year," Netflix's director of production management for original studio film, Kwame Parker, tells THR. "We're all preparing that this is how we're going to be making movies for at least another year or two."
Momita SenGupta, Netflix VP production management for original series, adds that the sets are a "very safe place."
"Once you are on a set — and I can say this about our industry as a whole, not just Netflix — it is a very safe place," SenGupta says. "It is very structured, you have probably the best PPE that you can get other than being in a hospital with N95s and face shields, you have monitors distancing you, you are being tested."
In England, where Bridgerton is filmed, more than 300,000 positive COVID tests have been reported in the past week. On Friday, alone, nearly 52,000 people tested positive for COVID-19, and 49 people have died from the virus.
Bridgerton is based on Julia Quinn's bestselling series of romance novels about the Bridgerton family in Regency England. Season 1 followed the love story of Daphne Bridgerton and Simon Basset, played by Phoebe Dynevor and Regé-Jean Page, respectively. Season 2, however, will focus on Anthony Bridgerton, Daphne's brother played by Jonathan Bailey, and his mission to find a wife. While Page won't be around for Season 2, Sex Education star Simone Ashley joins the cast as Kate Sharma, who catches Anthony's eye. And we, for one, cannot wait to watch it.