Netflix Announces Season 3 Of 'You' Is In Production
by Christina Marfice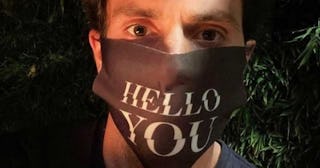 Netflix
Get ready for more of creepy Joe Goldberg — Netflix's You is back in production for its third season
When Netflix picked up You, the creepy murder mystery series based on the book of the same name, it became an almost overnight hit. Same for when the streaming giant took on the task of creating a second season. And it seem like no one can get enough of the murderous Joe Goldberg. You is returning for a third season, and after coronavirus delays, it sounds like it's finally in production.
Netflix confirmed the news in an Instagram post that featured Joe in a face mask emblazoned with his tagline from the show: "Hello, you." The caption reads, "stay at least 6 feet from Joe Goldberg at all times. YOU season 3 is back in production."
We could not be more ready. Season 2 left us on a serious cliffhanger, and we've needed to see more of Joe's story ever since. Bless Netflix for being the gift that continues to give in the pandemic age.
As of now, there's not much we know about season 3. It was confirmed back in January after Penn Badgley, who plays Joe, accidentally let slip in an interview that there were plans for a third season. But unlike the first two seasons, this time, there's not a book to base the storyline on. Netflix writers will be coming up with fresh content all on their own (though the author of You and Hidden Bodies, its sequel, is likely involved, since she's currently writing a third book for the series).
Here's what we do know: Badgley will be back, of course. So will Victoria Pedretti, who plays his now-pregnant love interest, Love Quinn, who (MASSIVE SPOILER ALERT) turned out to also be a killer at the end of Season 2. The final scenes of the last season showed Joe and a heavily pregnant Love moving into their new home together, and Joe peering through the fence to get a closer look at a neighbor who apparently caught his eye.
Last month, Netflix also made a few new casting announcements.
So we've got a mom-fluencer who is frenemies with Love, a successful businessman with family troubles, and a wealthy friend who tries to get Joe into his inner circle. TBH, it sounds like we have all the elements we're going to need for another creepy season.
There's no word yet on when the season will hit Netflix, especially with the unpredictable nature of filming during the pandemic. But whenever it happens, we know what we'll be binge-watching that week.