The Trailer For 'Haunting Of Bly Manor' Is Here And Chilling AF
by Cassandra Stone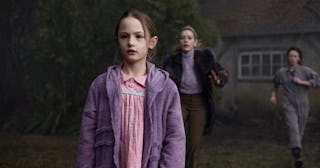 EIKE SCHROTER/NETFLIX © 2020
'The Haunting Of Bly Manor' is from the same creators that gave us 'The Haunting Of Hill House'
Remember The Haunting of Hill House? The terrifying yet deeply emotional horror series that ended up being a profound and psychological examination of grief? Yes, well, Mike Flanagan — the man behind that series — is giving us a new one, complete with giant haunted mansion and a poor, terrorized family. It even stars some of the Hill House cast members, which means it's basically already a guaranteed hit.
In a similar style to Hill House, Bly Manor is loosely based on an iconic horror text — The Turn of the Screw by Henry James. Victoria Pedretti, best known as Nell Crain from Hill House and also the second season of You on Netflix, leads the cast of Henry Thomas (who played the young version of Nell's Dad in Hill House and also Elliot in E.T. in case you need that reminder), Oliver Jackson-Cohen (Luke Crain), and Kate Siegel (Theo Crain).
Pedretti plays an American nanny (au pair if you're fancy) who arrives at an English estate in the town of Bly to care for two young children who lost their parents. "The people here…they're born here, and they die here," we're told in the official trailer, which just dropped today.
This in-depth look at Bly Manor teases all the items on the horror checklist: creepy, sentient dolls, spirits that look MOST DISPLEASED at being disturbed, an enormous and scary house with lots of labyrinth-like layers, small children being terrorized, and an emotionally gut-wrenching backstory.
Even though this new series has several members of Hill House's Crain family in its cast, they're all new roles and in no way continue the story of the tragic Crains. Flanagan previously explained to TVLine, "We tied up all of those [Hill House] threads exactly how they should be. I don't really see a need to revisit those characters, even in cameos."
As soon as the trailer dropped, Neflix horror fans took to social media to share their excitement about Bly Manor.
The Hauntin of Bly Manor will be available on Netflix on Oct. 9.
This article was originally published on