Neve Campbell Will Officially Return As Sydney Prescott In 'Scream 5'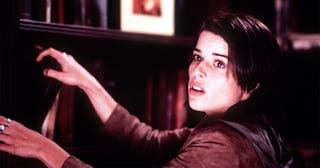 Joseph Viles/Dimension Films/Getty
Excuse us while we SCREAM over this delightful news, Neve Campbell
If you were alive in the late '90s, then you already know all about Scream and the franchise it created after the original 1996 thriller was an enormous box office hit. Which means you'll also know how big of a deal it is that Neve Campbell announced she's reprising her role as Sydney Prescott in the upcoming (and much-anticipated) Scream 5.
The actress shared a video featuring the iconic mask and captioned it with a confirmation that she'll be in the new movie — which is set to begin filming this fall, despite the ongoing pandemic.
"Hello again, Sidney… #ImBack," Campbell wrote. The tentative release date is January, 2022, which means we all actually have something to look forward to.
Campbell will be joined by fellow original stars David Arquette and Courteney Cox (Oh Gale Weathers, how we've missed you and those unforgettable bangs from Scream 3), who each confirmed they'd be returning to the movie franchise earlier this summer. (Fun fact: the Scream set is where Cox and Arquette first began dating.)
In Cox's announcement, she shared a similar image to Campbell, captioning it: "I can't wait to see this face again."
Arquette released a statement around the same time, stating, "I am thrilled to be playing Dewey again and to reunite with my Scream family, old and new," the statement read, according to The Hollywood Reporter. "Scream has been such a big part of my life, and for both the fans and myself, I look forward to honoring Wes Craven's legacy."
Craven, who directed the original Scream movies and plenty of other horror/thriller films, died in 2015.
According to PEOPLE, Campbell previously confirmed she was asked to star in the film. "We're having conversations. I have been approached about it," she said. Could you imagine a brand-new Scream film without Sydney in it? Nope, no way.
"The timing's a bit challenging because of COVID," she added. "You know, we only started the conversation maybe a month and a half ago, so it's going to take some time to figure out how it's all going to work out. We're negotiating, so we'll see."
Well, it looks like we'll see everyone in January 2022! No word yet on whether the iconic cordless phone of the '90s will also be making a comeback.