Things To Do on the Oregon Coast With Kids
by Bryn Huntpalmer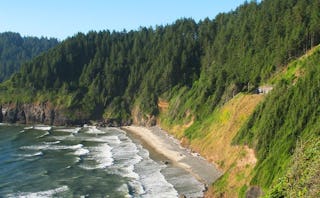 Planning a family trip to the Pacific Northwest? Great idea! There's so much to see and do on the Oregon Coast — it truly is one of the hidden gems of our country— and great for unique, memory-making family trips. From beaches to aquariums, the kids can learn about marine life while you learn the art of relaxation (well, as much as you can while you're on a vacation with the kids). Bottomline: you don't want to miss the gorgeous Oregon Coast! Here are our favorite things to do on the Oregon Coast with kids.
Oregon's beaches are unique in that every inch of beach is open to the public for exploring, unlike any other coastal state. Just be sure to use public access areas rather than tromping through someone's yard. The coast is comprised of lots of little towns, each with their own charms. It's an easy drive to get from one town to the next and this list will include the best attractions on the entire coast. Whatever you do, please do not be sucked into visiting the Sea Lions Caves, that place is the very definition of a tourist trap and it stinks. Consider yourself warned. But here are some other things to do on the Oregon Coast with Kids.
Best Places to Stay on Oregon's Coast
The hotel choices, even with kids, is practically endless by the coast, with the key being proximity to the water. The oceanfront Stephanie Inn and the Ocean Lodge are top choices in coastal luxury right on Cannon Beach
If no hotel is kid-friendly enough for you, and you need your own house or apartment (mini kitchen? kids get their own bedroom?), Airbnb has some of our all-time favorite coastal spots in or near Cannon Beach — from a pet friendly cottage to a Seaside Cove home to a 4-bedroom with a hot tub.
How to Get Around the Oregon Coast
Unless you drove here in your own vehicle, you'll be needing a car. Hertz has pickup locations at the Eugene airport and also throughout the area.
Best Experiences on the Coast for Kids
We know you used to enjoy exploring nature at your leisure, but let's be realistic and accept that you're with kids and kids need a plan. Put down their tech devices (and yours) and plan a few special experiences that are unique to Oregon's coast. Everything from a Yaquina Bay kayak tour (isn't nature why you're here!?!) to clamming for Purple Varnish Bay Clams be booked beforehand.
Best Attractions on the Oregon Coast for Kids
Whale watching is an amazing experience off the Oregon Coast. Depoe Bay is the self proclaimed "Whale Watching Capital" and also boasts the world's smallest harbor. In the summer months, Depoe Bay's resident grey whales make their home a stone's throw from shore. But the rest of the year you can see grey whales migrating as well as Orcas, Humpbacks and even the occasional Blue Whale!
Dockside Charters is the best and they offer two options in their whale watching trips: a zodiac that can get you practically close enough to touch the whales or a larger fishing boat that is probably a better option if you have young kids. This is surprisingly affordable too: a one-hour trip runs at $16 for adults, $8 for kids and 5 and under are free.
Crabbing at Siletz Bay is one of the most beloved activities for kids in the area. Siletz Bay is in the Taft district of Lincoln City, OR, and is one of the coolest beaches for kids. There are always locals out there crabbing for Dungeness Crabs and they will be happy to show your kids how it's done.
If you want to try your hand at it yourself, you can buy a Crab Max trap right there on the beach for $22. At low tide, you can also dig for clams just across the Bay. There is also a restaurant on the beach nearby called Mo's that is kid-friendly (and touristy) for grabbing food afterwards. Even better, if you like Indian food try the delicious All You Can Eat lunch buffet at Flavor of India just up the street.
Hike Cape Perpetua, just south of Yachats, Oregon. Cape Perpetua rises to over 800 feet above sea level. From its crest, an observer can see 70 miles of Oregon coastline and as far as 37 miles out to sea on a clear day. Many people say you can see the curvature of the earth from this viewpoint. There are twenty-six miles of interconnected hiking trails in old growth forests which lead to tide pools where kids can find really cool sea life. One of the trails even leads to a 600 year old Giant Spruce.
Best Activities on the Oregon Coast for Kids
Pelican Pub & Brewery in Pacific City is right on the beach with an amazing view of Haystack Rock. You can enjoy their craft beer and delicious food all while your kids play on the beach. The outdoor seating is right on the beach, so your kids are happy while mom and dad get tipsy, and then responsibly walk back to your hotel of course! There is also a sand dune within in walking distance that you can hike up and RUN down. A great way to get the kids tired out.
The Columbia River Maritime Museum is a great place to visit with kids. Both educational and fascinating, visitors can learn all about the human and natural history of the river. There's an interactive exhibit showcasing the dangerous journey along the Columbia River. You can also explore the decks of the Columbia floating lighthouse ship.
Sandboarding in Florence, Oregon is a must-do with kids. Florence is just down the road from Cape Perpetua so these activities are easily combined. Sandboarding is similar to snowboarding except you do it on sand dunes! You can rent a board for as little as $10 and get lessons for around $45. It is such a fun and unique activity for older kids and younger kids can just play on the beach nearby.
Sand Master Park was started by a sandboarding pioneer and includes 40 acres of sculpted, private dunes to practice on. Also available in Florence is windsurfing, kiteboarding as well as helicopter and dune buggy tours.
Go fishing while you're in town. You can find opportunities to fish from shore or take a charter boat out in most towns along the Oregon Coast. We prefer Newport or Depoe Bay as they have experienced captains and they all work together to know just where the fish are biting. Depending on the season you will catch Salmon, Tuna, Halibut, Ling Cod and Rockfish. Many charters also offer the opportunity to drop crab traps while you are out so you will come home with delicious Dungeness crab as well. They will even fillet and ship your catch to your home if you choose.
Climb the Astoria Column. This tower was built in 1926 and offers 360° views of the ocean from 125 feet above ground. Again, a great way to tire out the kids even if you are just passing through Astoria. If you have time to spend in this small town, you can check out one of their three micro-breweries and ride their cute trolley.
The Oregon Coast Aquarium is a beautiful aquarium with lots of interactive activities for kids. If you plan a whole day there, you can catch the Sea Lion and Otter feeds (in the morning) and a shark feed in the afternoon. This is the aquarium where Keiko from Free Willy was rehabilitated and then released into the wild. Her habitat is now called Passages of the Deep and houses sharks, rays and countless species of fish. There is also an indoor and outdoor kid's play area as well as a touch pool where kids can feel Sea Stars (did you know they aren't called Starfish anymore?), anemones and urchins.
Visit the lighthouses when you're on the Oregon Coast. The Oregon Coast is home to eleven lighthouses each with their own unique history and gorgeous views. Make a game of it and try to visit all of them as you travel along the coast. There is even a free lighthouse app you can use to locate and learn about each one.
Or you could just relax. Seriously, the scenery here is to die for and you don't have to go far for an amazing view. Take time to enjoy the local fresh seafood restaurants and microbreweries. Most places are within walking distance to the beach (if not right on the water), so the kids can easily be bribed to behave at the table if it means running free in the waves when dinner is over.
Best Things To Pack For A Trip To The Oregon Coast
The Oregon Coast is rugged and beautiful, but it can also be a little chilly for those not accustomed to the wet Pacific Northwest weather. Pack a hoodie, like this colorblock option from Sweaty Rocks and a flannel plaid shirt by Dickie's (very Oregon-esque) that you can throw over a tee if the weather gets chilly.
There's a lot of outdoorsy activities (hiking, sand castle building, sightseeing) so a comfortable pair of windproof, waterproof pants that can withstand the elements will get a lot of use (and keep you warm). These iconic 90's New Balance sneakers perfectly suit the outdoor life and lots of walking and light hiking. Because you could be sitting at a brewpub or taking in a lighthouse, a precious handbag isn't required – Herschel backpacks are city-chic but durable enough for a family vacation (that means they can hold all the snacks and the phones)- one per family member (in their chosen color) for each of the big kids and parents.
The coast gets a fair amount of rain, particularly in the spring and early summer, so a packable rain jacket would be smart – you can even bring a pack of ponchos for the family (which saves on space and the hassle of carting several rain jackets around). But prepare for every scenario: keep a pair of polarized Ray Ban aviator sunglasses (a classic style) and a bottle of 50SPF Sun Bum Original Face Lotion on hand for when the some comes out (typically the region doesn't top 73 degrees Fahrenheit, even in summer, but you still gotta protect the skin).
Use the sometimes-blustery weather to your advantage and pack a set of kites for the kids – you will see lots of families up and down the beach trying to get one going (it will tire kids out pretty quick!).
Although we only recommend picks we really love, we may earn a commission on purchases made through links from our site.
MORE: All the Must-See Spots in Austin
Best Things to Do in Baltimore With Kids
Things to Do on Your Family Vacation to Galveston
This article was originally published on