10 Super Cool Fourth Birthday Party Ideas For The Little Four-nado In Your Life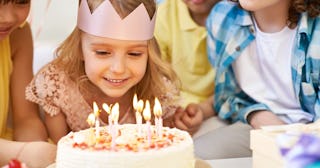 mediaphotos/ Getty Images
Year four is when things start to get interesting in terms of birthday party planning. There's a good chance your tiny tyke is going to Pre-K now, which means they have a classroom full of friends who are ready to party, too. If your child's party is late enough in the year, you've probably already been to a couple Paw Patrol parties and one or two Frozen extravaganzas. So, how do you keep it interesting? Focusing on your child's interests is often the best way to go. That's still a little hard when they're this young, but even at 48 months, your babe probably already has some strong interests.
May The Fourth Be With You
Is there a Jedi in your family? Perhaps your little mini me is walking around doing beeps and boops like BB-8 or R2-D2. While May fourth is already a Star Wars "holiday," your don't have to wait until May to use the silly play on words. Luckily, this theme is pretty easy to find pre-made decor and supplies for, but don't be afraid to attempt some cool DIYs, as well.
Four-nado
Could there be a more accurate description of your four-year-old than a "four-nado?" They're wild, fast and pretty dang destructive. How will you spin this one? You could go for a slight weather theme and then mix in a bunch of messy activities like finger painting and silly string, or any water games during warmer months.
Run Four Your Life
We love this theme because it implies a party full of energy. You turn the kids loose to go buck wild in the back yard or attempt some structure with some super easy minute-to-win-it games. Either way, so much of the party is available for personalizing based on your freshly four-year-old's interests and favorite colors.
Let's All Roar — Baby Is Four
You might want to replace "Baby" with your child's name, but this quick quip is great because it can go in so many directions. The obvious one for any kid is dinosaurs. However, lots of animals (and sports team mascots) roar, as well.
Four-Wheelin' Fun
Whether sweetie is into riding on quads with Mommy, Daddy, or just loves race cars, the theme still works.
Jump Four Joy
Interested in checking out one of those trendy trampoline parks? Most places have party packages you can use to create something wild and fun for your kid. Your child will love the chance to bounce around with their buddies and you'll love how little effort you have to put into such a memorable party.
Down On The Four-m
Four-m is farm, get it? Farm parties are huge and the amount of customization is practically limitless. There are farm-themed food ideas, farm-themed games and tons of online resources for farm-themed decor. You don't have to spend a ton of money on a petting zoo to make this party go bonkers.
Un-Four-gettable Good Time
This is literally the most generic play on words ever, but it still holds big promise. What will you do to make it unforgettable? Will you stay home or venture somewhere else? Will you have amazing take-home-gifts or an outlandish cake? Only use this theme if you're 100% sure you can promise something amazing.
Four-tnite Fun
Let's be real. Your four-year-old isn't playing Fortnite. They probably have siblings who are, though, and now they're obsessed with the silly dance and the cool creatures. Let 'em live it up — it'll make them feel like a "big kid."
Four-t Building Frenzy
Prep for a fort-building party is so, so simple. Clear out a room, but have tables and chairs at the ready. Set up a basket full of sheets and blankets and another small container with clips and clothes pins, then help the party-goers create something magical. Once they've build their fort, stock it up with easy games and snacks. Admittedly, the clean-up could be pretty phenomenal. However, it's a party your sweet bug won't soon forget.
Related: 100+ Super Fun Activities For Kids And Teens So Bored They Can't Even
This article was originally published on