40 Creative Birthday Gifts For The Guy In Your Life Who's About To Turn 40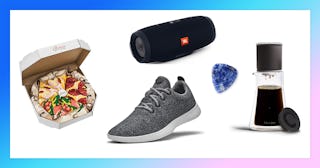 Amazon / All Birds
It's always hard finding a creative birthday gift for the men in your life — especially when they're turning a milestone age, like 40. Right now, I'm closer to 40 than I am 30. Even though, thanks to the pandemic, I feel as if I've aged a decade within the past few months. Celebrating a birthday during a pandemic is kind of a bummer, especially if your go-to plans were dinner and a movie. While you can still celebrate the occasion with someone you love, you might want to focus more on the gift than the destination. Whether you're shopping for your hubby, boyfriend, brother, or in-law — a unique gift for 40th birthday will mean the world.
So, what does a 40-year-old man want? Good question. By the time you hit 40, you should be more or less settled. The 40-year-old in your life may have kids, or might be thinking about it. But usually, by 40, you're settled in a town and living situation you feel comfortable with. You probably don't have roommates anymore — but if you do, they're friends and not strangers off the internet. A 40-year-old won't mind a practical gift over a zany gift.
That said, every 40-year-old guy is a little different. They could be a child at heart for all we know, an artist, or a fitness junkie (in that case, get them a bop bag for sure). But in general, they'd all be ecstatic over the fact that you loved them enough to buy a present. If you're stuck trying to think about the best present to get, here are 40 great 40th birthday gift ideas for him.
40th birthday gifts for the men who have everything
Creative 40th birthday gifts are the way to go when your fella has everything. Below you'll find unique 40th birthday gift ideas for him.
Home & Kitchen Gifts
Unique Gifts
Tech Gifts
Wellness Gifts
Practical Gifts
40th birthday gifts for your husband
Wondering what to get your husband or boyfriend for their 40th birthday? Check out the cool gifts below!
40th birthday gifts for your brother
If you're looking for more for your bro, check out more gifts for your brother here.