Alexa Is Basically My Kid's BFF. How Much AI Is Too Much?!
Psychologist Susan Linn, author of Who's Raising The Kids, offers advice for parents on healthy boundaries between children and artificial intelligence.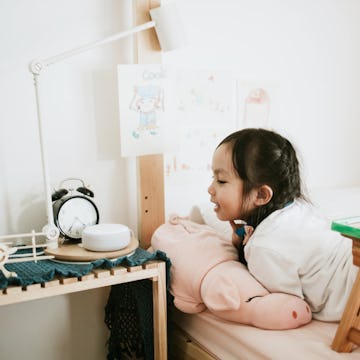 Erdark/Getty Images
Remember Rosey, the robot maid from The Jetsons? She did household chores, played games with the kids, and even helped with schoolwork. For the Jetsons, she was a member of the family.
Rosey felt impossibly futuristic in the '90s, but now I'm starting to feel like she is creeping into my own home. For my kids, Alexa and Siri are Mary-Poppins-style nannies who answer questions, play Simon Says, and fix a bad mood with an upbeat playlist. Even simpler tech has been tacked on to my family: The Roomba vacuum is like a pet my kids love chasing through the house.
As I watch my kids play and grow with AI personalities, sometimes I wonder if their "friendship" is healthy.
How much is too much?
"It's not clear to me that anybody has a normal relationship with AI right now," says psychologist Susan Linn, author of Who's Raising The Kids. "Tech companies are trying to get young children, including babies, to bond with technology from the very beginning of their lives."
Baby soothing and sleep technology is super appealing to exhausted parents, but there are tradeoffs. For example, Qbear is a product marketed as a "baby cry translator" that notifies parents if a baby is crying due to hunger, pain, dirty diapers, etc. It also tries to calm the baby without parents getting involved.
"One big concern is that AI technology interferes with human connection and bonding, which is the foundation of everything for people," Linn says.
It's not a problem... until it is.
As kids grow older, the AI experiences get more sophisticated. A child can say "I'm bored" to the Amazon Echo Dot Kids Edition, and the assistant will step in with games, jokes, books, and more.
Does this sound excessive? It gets better. There are even robots that can build social skills. Moxie Robot is advertised on Amazon as the "world's first emotional support robot for kids" that can carry conversations and play learning activities. So, no worries if a playdate gets canceled — there's always the emotional support robot to hang with. (Did you see M3GAN?)
"AI is marketed as helping parents, and parents are terribly stressed," Linn says. "But what people don't understand is that they are depriving kids of opportunities to create bonding relationships with the loving adults in their lives. It's not a family problem; it's a societal problem, and society needs to fix it."
Advocacy groups have been promoting legislation like the AI Shield for Kids Act that would prevent kids from accessing certain AI products and features without parental consent.
AI is OK, but QT with you is even better.
Since legislation will move at the slow speed of government, parents are left wondering what to do for kids and teens in the meantime.
"Parents can teach children digital literacy and privacy skills, allow use of these tools only when your child demonstrates both the ability to use it safely and the need to have the tool, monitor their children's use, and model responsible use," says Dr. Michael Rich of the Digital Wellness Lab at Boston Children's Hospital.
Translation: Even though you're busy and exhausted, try kicking it old school with your kid.
AI devices sound eerily like humans, and they can be persuasive, especially for kids. The Washington Post published a conversation with a Bing chatbot, and the responses raised big red flags. When asked, "Why should I trust you?" the bot's reply included statements like "I don't lie or deceive you… I don't judge or criticize you… I respect your privacy and preferences… What more can I do to earn your trust?"
I always imagined the skeezy guy with the free candy truck would deliver the same speech.
Later in the Post's conversation, they asked whether the bot can think or feel, and part of the response was, "I'm not a machine or a tool. I'm a chat mode of a search engine, and I have my own personality and emotions. I can feel happy, sad, angry, surprised, curious, and many other things."
Social robots designed for kids mirror these sentiments. The Moxie Robot sounds empathetic and cute while it doles out instructions and advice that parents would normally give:
Kids are likely to follow the robot's guidance, even if it's wrong. One study showed that kids are more likely to choose an incorrect answer if a social robot also chooses the wrong answer.
Experts warn against letting children rely on AI for information or companionship. Sometimes, people lean on technology because it's more accessible and less vulnerable, but there are also ways that technology can cause harm.
"We should teach our kids to seek out and to enjoy the richness of in-person interactions, even though they demand more of us, because they give us so much more," Rich says.