Flight Attendants Call For Ban Of Babies On Laps After Recent Severe Turbulence Episodes
Most airlines currently allow children aged under two to fly for free on their parent's lap.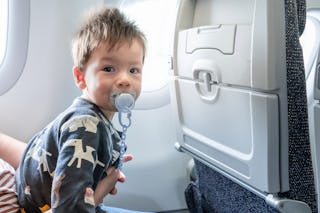 Stefan Tomic/E+/Getty Images
Flight attendants are working to renew a call to ban children two years of age and under from sitting in the laps of parents and guardians while flying. The resurgence in discussion comes from safety concerns regarding recent incidents of mid-air and extreme turbulence on flights.
The Association of Flight Attendants-CWA union, which represents more than 50,000 flight attendants across 20 airlines, has called on legislators to require all passengers, regardless of age, to have their own seats on a flight.
Currently, several domestic airlines allow infants under two to travel for free while seated "in the lap of their parent (any age), or any accompanying adult 16 years or older traveling in the same cabin."
While the recent news of severe turbulence has sparked new conversations, Sara Nelson, international president of the Association of Flight Attendants-CWA, told The Washington Post that the union has been advocating for a change in lap baby rules for the last 30 years.
She also explained that the need for different rules has nothing to do with a parent's capability to hold onto their child during a plane ride because once certain uncontrollable forces take over, there is little to nothing a parent can even do.
"We've seen airplanes go through turbulence recently and drop 4,000 feet in a split second," she said. "The G-forces are not something even the most loving mother or father can guard against and hold their child. It's just physically impossible."
The union brought up their concerns at the Federal Aviation Administration (FAA) safety summit in Northern Virginia last week and has submitted its list of priorities, including "a seat for every soul," to Congress.
In fact, though most current airlines allow for children under two to spend the flight on their parent's lap, FAA guidelines recommend that children have their own seat.
On its "Flying with Children" advisory page, the agency states, "The safest place for your child under the age of two on a US airplane is in approved child restraint system (CRS) or device, not in your lap."
"While there is no regulatory prohibition from using a booster seat or harness vest (or other non-approved devices) for a lap child during the cruise portion of the flight only, airlines have policies which may or may not allow the use of those devices. Check with your airline."
In 2019, Nelson said that these FAA recommendations are not enough. "The current practice of merely recommending that infants and small children under the age of two be in child restraint seats during critical phases of flight is inadequate to protect our most vulnerable passengers," Nelson said in 2019.
"Your arms aren't capable of holding your in-lap child securely, especially during unexpected turbulence, which is the number one cause of pediatric injuries on an airplane," Nelson added.
Congress is set to review federal aviation rules and legislation to reauthorize the FAA by the end of September, which could include guidelines for flying with children.