The Best Baby Blankets To Keep Your Little One Snug As A Bug
by Emily Popp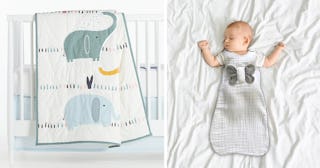 Crate & Kids / Project Nursery
When it comes to buying the best baby blankets, of course you want to find one that will comfort and soothe your little one the most. There's nothing more precious than a sleeping, snuggly little baby wrapped up in a cozy blanket. And you may not realize it, but there are many different baby blanket categories out there. There are swaddling blankets, wearable blankets, sleep sacks, security blankets, quilted blankets, milestone blankets and the list goes on. It can be overwhelming. But we've gone and selected the best from all categories. And we have options for every single budget—from ultra-affordable to luxury, keepsake blankets.
No matter how many baby blankets you may have, one thing is certain: moms could always use more. They also make a perfect baby shower gift because they're thoughtful and practical. Some blankets you'll have forever—even into adulthood—as a special item to pass down to your children's children. And then some are meant to be more utilitarian. Whatever particular style you're looking for, we've found the best of every category.
Below, see our picks for the coziest, comfiest, snuggliest baby blankets.
Best Swaddle Blankets
Best Multi-Purpose Blanket
Best Wearable Blankets
Best Budget Blanket
Best Security Blankets
Best Luxury Blankets
Best Milestone Blanket
Best Personalized Blanket
Best Quilt
Best Outdoor Blanket
Best Toddler Blanket
Best Weighted Toddler Blanket